In all walks of life, whether it be our skincare routine or our PPE, disposable products are no good for us, the environment, or our wallet. So here are our favorite face masks available on Lookfantastic for reusable alternatives and some skincare tips! 
Slip Reusable Face Covering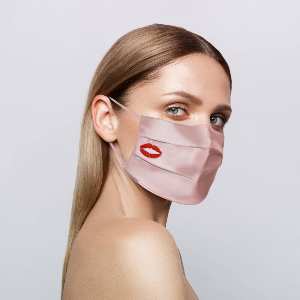 Silk on the outside, and 100% cotton on the inside, this
Reusable Face Covering by Slip
won't irritate the skin and will feel soft and comfortable to wear.
Think of it as having the beauty benefits of the Slip pillowcase (non-absorbent, cool to the touch, and all around better for your skin) on your face! 
Plus, combines with silk pillows, you don't need to worry about losing your products into the fabric!
StylPro Reusable Cotton Face Mask
Crafted from luxuriously soft and supple cotton, the StylPro Reusable Mask is soft on the skin and fitted perfectly to the contours of the face to prevent movement and rubbing. The masks are machine-washable and can be used up to 30 times, making them highly practical and convenient.
*Please note that the masks do not replace the need for proper and regulated social distancing.
The Rise of Maskne
Maskne is the result of friction from a fabric on the skin which results in skin irritation and breakouts. As friction and irritation along with the heat and moisture under a mask can create a hot-spot for bacteria to spread, it is easy for whiteheads, blackheads and spots to form under a mask. Luckily, there are steps you can take to stop your skin from flaring up and keep the blemishes at bay, even if you are wearing a mask for most of your day.
How to prevent Maskne
1. Wash or Alternate Your Mask Regularly
Just like you wouldn't continue to wear dirty clothes without washing, a mask shouldn't be worn for days on end without being cleaned, especially as it sits directly on the skin. Try and have at least two reusable masks in rotation so that you can wash each after a day or two of wearing to prevent dirt and bacteria build up. Make sure your mask is completely dry before use! 
2. Wash Your Face Before and After Wearing Your Mask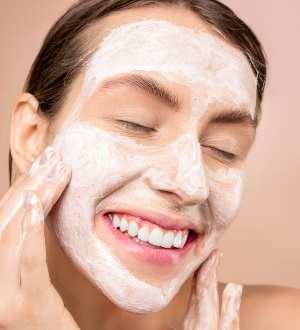 Consider it like an extra step in your beauty routine. By washing your face before and after use, you minimize the dirt and surface impurities that can be imparted on the mask or left on your skin. 
3. Avoid Using Harsh Ingredients
It may be tempting to pile on the acids and harsh clearing treatments at the first sign of a breakout, however it's important to be attentive to your skin and stick to using gentle formulas that won't cause further flare-ups. Especially during the summer, when your pores will be opening up more often and will be prone to skin sensitivity. Instead, use acne-prone products designed for sensitive skin including the Garnier Range.
4. Use Oil-Free Skincare and Cosmetics
We'd recommend sticking to oil-free moisturizers and makeup that won't clog pores or cause added build up under your mask. If you can, break up with your foundation and go makeup free or opt for a lighter BB or CC cream instead. Bonus points if you use one with SPF! 
5. Soothe Your Skin Overnight
If all else fails and your mask has caused rubbing and dryness, using overnight high-impact skincare is a wonderful solution. The REN Clean Skincare Evercalm Overnight Recovery Balm will replenish moisture whilst you sleep, using Jojoba and Sunflower Oils to strengthen the natural barrier function.
6. Keep Hands Clean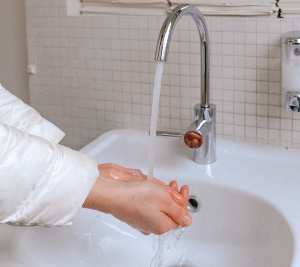 Of course, the number one rule of staying safe during the pandemic; keep your hands clean! 
Not only will this help you stay safe from infection, but it will also help keep your skin clear. On a daily basis, our hands touch multiple surfaces, picking up bacteria and dirt. When using a mask, we are more likely to touch our face to adjust it or when putting the mask on or taking it off. It is therefore important for both our health and our skin that we regularly use hand sanitizer when out and about after touching any surface.
Shop all Face Coverings and Hand Wash products on LOOKFANTASTIC here.
A beauty enthusiast by heart and a plant lover, I'm always looking for the latest and greatest in skincare and beauty, especially clean and organic! I think everyone's entitled to high quality skincare at any budget, and I'm always on the lookout for what's new in the industry be it tips, tricks, or products!