Ingenious Beauty
1 results
The Ingenious Beauty Ultimate Collagen + is a supplement that is designed to give you smooth skin, healthy hair and strong nails thanks to its powerful blend of 3 unique ingredients. Each ingredient originates from natural sources, without the use of synthetic or chemical processes, ensuring that your body receives the best possible nutrition it can. These are Hyaluronic Acid to plump up your skin and infuse it with moisture, Marine Collagen Peptide to help eliminate fine lines and wrinkles, and the star ingredient, Astaxanthin, which is an extremely potent antioxidant. The Bronze Award winner of the Pure Beauty Awards 2016, the Ingenious Beauty Ultimate Collagen + utilises the very best of science thanks to its patented delivery system, which delivers the product into your body in a way that your skin, hair and nails will use it best.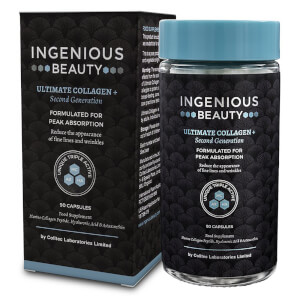 Ingenious Beauty Ultimate Collagen+ 2nd Generation (90 Capsules)
UP TO 20% OFF + FREE GIFT
Up to 20% off with code COUNTDOWN + select your free gift when you spend $80+ on your purchase. Offer began at 10AM EST at 20% discount. Discount drops by 1% ever 2 hours.
SHOP NOW