Have you been wondering how to even out skin tone for a long time without success? At LOOKFANTASTIC, we have some tips and tricks to help you achieve that radiant skin you have always dreamed of having.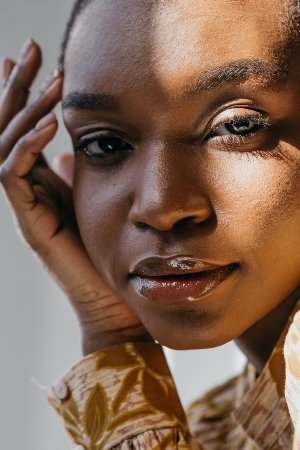 There is much more to an even skin tone than appearance.
A healthy complexion can help boost confidence and improve your overall skin health. After all, who doesn't feel good having blemish-free skin?
The trick is having the best mixture of products and exfoliation methods for your unique skin type.
You may have tried various products already without much success. If this is the case, then this guide is for you.
We'll cover how to identify an uneven skin tone, recommend the best products for treating it, and some exfoliation tips to help you out.
Common Signs of Uneven Skin Tone
Before embarking on our discussion, it is essential to know some signs of uneven skin tone. Some common symptoms include:
Blemishes
Redness
Age spots
Acne scars and many more
If you've experienced these symptoms, then you might feel uncomfortable or self-conscious. However, there's no need to worry! We're here to guide you through some solutions for enhancing your skincare routine.
How To Get An Even Skin Tone
Exfoliating Your Skin
Exfoliation is a well-documented method for evening out your skin tone as it helps to remove dead skin cells from your face. These dead skin cells can cause dark spots on the skin, increasing the appearance of blemishes and lines. The process also helps to unclog your pores and improve the absorption of other skincare products like moisturizers. So, including exfoliation in your skincare regime can help reveal a new layer of glowing skin beneath.
However, there is a fine line between healthy exfoliation that encourages new skin cells to grow and over-exfoliating the skin. According to some studies, exfoliating too often can irritate the skin and lead to the very uneven skin tone you are trying to avoid. So, experiment with the frequency of your exfoliating routine and the products you use to create those bright, hydrated results.
There are several ways to exfoliate your skin, either through mechanical or chemical methods. Let's take a look at each process in more detail to help you decide which is best for your skin.
Mechanical exfoliation
In mechanical or physical exfoliation, you can use a hard substance to manually remove those dead skin cells from the surface of your face. These methods include:
An exfoliating brush: The brush's bristles will help remove the layers of dead skin in both dry and wet conditions.
Exfoliation sponge: Using a sponge is a gentler exfoliation method partnered with warm soapy water for great results.
Exfoliating gloves: These are suitable for use in areas like arms and legs and offer a softer method than the sponge or brush.
Exfoliating scrub: Using a scrub product is a common method for exfoliating and requires warm water to wash the skin cells and product away.
Chemical exfoliation
Chemical exfoliation involves different even skin tone products, typically including acids or enzymes to help remove those dead skin cells. Before choosing a particular product, it's vital to research some essential details, including:
The ingredient used to make the product
User reviews
Pricing
Side effects, if any
Accreditation and other relevant details of the product
As this method involves some chemicals, it's essential to make sure you source your product from a reputable source. If you have a skin condition such as eczema, check with the manufacturer or your dermatologist for advice before using these products.
Apply a brightening serum
After removing the dead skin cells through exfoliation, you need to apply a brightening serum. A brightening serum is a kind of treatment that penetrates your skin with moisture and vitamins to help even your skin tone. The serum should consist of vitamin C and other valuable elements that nourish and hydrate your skin. Remember that vitamin C is a robust antioxidant, helping to protect and brighten the skin while promoting the growth of new, healthy skin cells.
Moisturize Your Skin
Getting a good moisturizer is essential for a successful skincare routine. Moisturizer helps you to keep your skin hydrated and healthy. Look for one containing SFP, as this UV protection will help keep your skin tone even and healthy for years to come. Check which type of skin the manufacturer intended your moisturizer to help, as this can impact its performance and results.
Now you know the basic steps for achieving a beautifully even skin tone, let discuss the top products for enhancing your skin's condition and appearance.
The Best Products to Get A More Even Skin Tone
1. Dr. Dennis Gross Skincare Alpha Beta Extra Strength Daily Peel 2. Perricone MD Vitamin C Ester Brightening Serum 3. Pixi Overnight Glow Serum 4. The Ordinary Pigmentation Bundle
If you want a fast-acting, two-step daily treatment for your skin, this daily peel from Dr. Dennis Gross is for you. Every peel pad contains an effective dose of:
AHA and BHA(7 Alpha & Beta hydroxy acids)
Antioxidants
Vitamins
Green tea extract
According to reviews, 96% agree that the product made them look younger after using it for 28 days. Also, many people experienced improved firmness and radiance.
This Perricone MD serum will brighten and even your skin tone with Vitamin C Ester, which is a less irritating yet more intense form of Vitamin C. The Rosemary Leaf extract will help hydrate and firm your skin leaving you with a smooth complexion. Topped off with a citrus scent, this product will smell great and deliver the results you're looking for to get an even complexion.
The Lumene Nordic-C Glow Night Serum works while you sleep and will exfoliate and hydrate your skin overnight. AHAs and PHA combine with vitamin C and Arctic clouberry extracts to deliver the maximum benefits to your skin, allowing you to wake up to a glowing complexion.
The Ordinary Pigmentation Bundle uses powerful technologies to improve skin conditions. According to reviews, this product is among the few most effective for even skin tone. The bundle contains everything you'll need for your skincare routine, making it a straightforward set to use while achieving outstanding results.
Conclusion
If you are looking for an efficient and effective regime to give you the best even skin tone, look no further than these top five products. Visit the LOOKFANTASTIC online store to find more of the best hair, skincare, and makeup products for you and say hello to even tones and radiant skin today.