Find The Perfect Highlighter Palette To Suit Your Skin
Get The Glow
If you want that lit-from-within glowing complexion that will have people constantly telling you that your skin looks gorgeous and radiant. You need a highlighter palette. A good illuminator (also known as highlighter or luminizer) will add and reflect light off your face offering you dewy, healthy and younger looking skin. Adding light and radiance to the appropriate places will enhance your features and make them look more pronounced.
Where To Apply Highlighter 
Whilst it looks tempting to smear highlighter all over your face and walk around looking like the tin man. There are some key areas where highlighters are best to be applied and these are the points on your face where light and sun would naturally hit. They are:
Top of the cheek bones
Inner corners of the eye
Below the brow bone
Cupid bow
Bridge of the nose
Centre of forehead
Decolletage and collar bone
You can certainly highlight one without the other but if you do want to achieve that super glowing look then try to highlight all of the areas in the list above. Highlighting works best once you have applied your foundation, concealer and if you want an even more chiseled finish, your contour too. Try to avoid adding highlighter to any problem areas, such as blemishes, wrinkles, puffy skin etc as adding an illuminator will draw unwanted attention to wherever it is applied.
What Is In A Highlighter Palette?
Highlighters and illuminizers should contain shimmers and gleaming properties as this is what will boost light reflection. The colors should be light but not too white, more like, cream, gold, pink etc that blend into the skin effortlessly. That's why a highlighter palette is a great addition to your makeup bag as they include gorgeous gleaming colors and most of them include four or more shades to use on different areas at different times of the year.
What Shade of Highlighter Will Suit My Skin?
Most highlighter palettes and shades are universal but similar to most color makeup there are certain shades that will compliment certain skin tones better than others and since we want to enhance our features it's best to know what will work best.
Light/Fair skin-
Fair skin is best teamed with frosty highlights in colors with pink, cream and off-white undertones. Anything too dark or too golden will cause a non-flattering contrast. A great highlighter palette to set off fair skin is the RMS Beauty Signature Set Luminzier. This quad palette hosts a selection of the most luxurious creamy colored, balm-like textured and subtly pigmented shades. Each of which is perfect to flatter those fairer complexions. To best apply these highlighters, use sparingly and apply with your fingers to pat onto the skin.
Medium Skin-
Medium skin tones best suit shades that aren't too dark and aren't too light. Soft golden shades work really well, as well as rose gold, and muted pink. This highlighter palette by Laura Geller is a trio made up of the most gorgeous shades including a rose gold hue, effervescent caramel honey shade and a peachy champagne shimmer. All of these shades glide onto the skin effortlessly and create that pop of highlight that enhances your skins natural radiance and overall complexion.
Dark skin- 
To best compliment dark skin tones try a highlighter palette with a lot of gold and bronzed colors. Be conscious that anything too pink or too light in color will be very unflattering on dark skin. This highlighter may not be a palette with multiple shades but trust me when I say you won't even want the other shades when you see this dazzling beauty. The Illamasqua Beyond Powder in shade Epic is literally Epic (Especially for mid to dark skin). The color is somewhere between a deep rose gold and a coppery bronze that instantly warms the skin. The great thing about this product is that you can use it dry and let it glide over the skin for a gorgeous all round glow or you can wet it to create an intense pop of color with a metallic finish.
Very dark skin-
The darker your skin tone, the darker your highlighter should be. Shades such as burgundy, copper, dark bronze and brown (all with shimmer) will work best to highlight very dark skin tones. Why not try the Contour Cosmetics Contour Bronzing Rocks. They're a shimmery dark bronze color and highly pigmented so you can achieved that glowing look in seconds.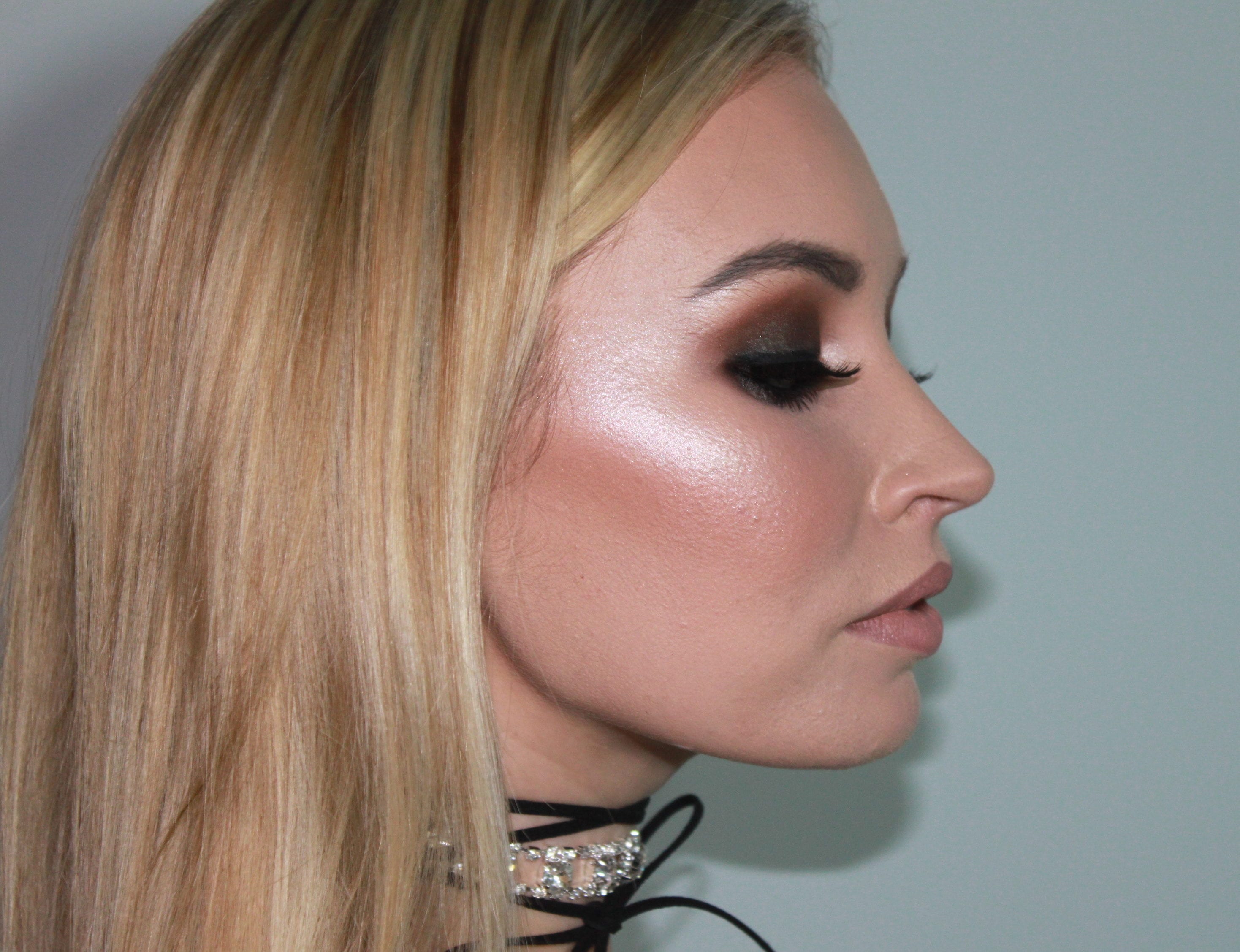 I hope this helps you when it comes to choosing the appropriate highlighter palette and luminizers to suit your skin tone. My skin tone changes between seasons so I have an extensive collection of highlighters and I always like to complete my makeup with a dusting of highlight, I especially love the way it enhances my cheekbones and my cupids bow. Another top tip I'm going to share with you is to apply your illuminator to your décolletage, focusing mainly on your collarbone. When you're wearing something that shows it off this really helps accentuate it and give you that supermodel structure. Share your glowing selfies with us on Instagram!
A beauty enthusiast by heart and a plant lover, I'm always looking for the latest and greatest in skincare and beauty, especially clean and organic! I think everyone's entitled to high quality skincare at any budget, and I'm always on the lookout for what's new in the industry be it tips, tricks, or products!