Wherever you're off to this July, our Beauty Box is sure to help!
This month, we're bringing you 6 incredible beauty treats in our beauty box this July from brands such as Elemis, Grow Gorgeous and Illamasqua – worth over $54! Even better, get all of these products inside a keepsake travel-bag this month, great for any getaway.
For more summer skincare, check out our 4th of July Sale, with up to 50% off the brands you love! 
Get it before it's gone by subscribing today!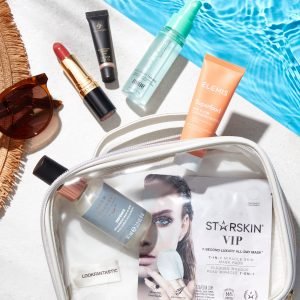 What's in the July 'Wanderlust' Beauty Box?
Elemis Superfood Glow Priming Moisturizer (20ml) – worth $16.33
Want dewy, glowing skin? Who doesn't. This Elemis priming moisturizer is here to give you the smooth, radiant complexion of your dreams. Blended with nourishing ingredients that will also brighten your skin. Perfect for use as a daily moisturizer, a primer or as a natural base.
Revlon Classic Super Lustrous Lipstick (Rose Wine) – worth $8.49
This creamy lipstick adds a pop of natural color to your pout. Infused with a LiquiSilk™ formula that seals in both pigment and softness, for a lip look that is long-lasting and doesn't crack or flake.
Illamasqua Beyond Liquid Mini Highlighter (2ml) – worth $4.13
A liquid highlighter, taking inspiration from the brands infamous Beyond Highlighting Powder, that will give you a striking, strobe-like glow. Mix into your base makeup for a natural luminosity, or apply directly to the high points of the face for a champagne, glowy finish.
Starskin 7-Second Luxury All Day Mask – worth $2
A miracle seven-step skincare regime in one handy pad that combines Starskin's famous 7-Second Morning and Overnight Masks. This double-sided cleansing pad works to hydrate and refreshes your complexion as it cleans, for quick but effective skincare.
Grow Gorgeous Defence Anti-Pollution Leave-In Spray (60ml) – worth $8
A protective hair mist that shields your hair from heat damage, color fade and external aggressors. Vegan-friendly and formulated without parabens, sulfates or silicones. Especially great for greasy hair that is prone to product build-up.
Minetan Cucumber Hydrating Face & Body Mist (30ml) – worth $5.93
A refreshing face and body spray which acts as a gradual tanner to give you a bronzey glow this summer. With a lightweight formula that is instantly absorbed and zero fake-tan smell, this gradual tanner is suitable for face and body and is perfect for that golden glow.