Many of us struggle with facial puffiness, which is where a jade roller comes in. Jade rolling is an ancient Chinese technique that's said to boost circulation and assist with lymphatic drainage for a more energized and brighter look. The art of jade rolling uses a unique beauty tool made of jade or other stones, known as a jade roller.
What is a Jade Roller?
A jade roller is a traditional Chinese skincare tool designed for facial massage. This derma roller is a paint roller-style tool featuring two stones on each end. The larger stone is designed for use on the forehead, cheeks, and jaw, while the smaller stone is ideal for the delicate mouth and eye area.
How is it Used?
You can use jade rollers in different ways. However, it's always best to use them before other skincare products and on clean skin. Here's a step by step guide on using your jade roller:
1. Prep your skin and beauty tool
Generally, jade rollers add pressure and a cold sensation to the skin, pushing fluid while giving your muscles a soothing relief. So, it's advisable to store your jade roller in the fridge before use for enhanced effectiveness. As for your skin, prep it using a serum, moisturizer, or night cream.
2. Begin with your neck
When using your jade roller, apply gentle pressure and move upwards, beginning with your neck. Press and move slowly upwards, targeting under your jawline and the sides of your neck.
3. Transition to your face
Now, move to your face and roll outwards. Whether it's your forehead, chin, or cheek, rolling outwards gets your circulation going. Ensure you're pressing lightly to avoid rapturing capillaries.
4. Use the smaller stone for your eyes
Lastly, use the small stone for your eye area to get rid of puffy and dark under-eye circles. Since the eye area is delicate, avoid rough movements or pressing too hard. Once you're done, clean your beauty tool using gentle soap and warm water and let it dry before storing it away.
What are the benefits?
The main benefit of these products, along with other facial rolling devices, is improved circulation and lymphatic drainage. Your facial muscles tend to stiffen up after a long day of talking, smiling, and chatting, limiting the circulation of oxygen and blood in your face. This results in puffiness and other skin care concerns. Luckily, the jade roller applies pressure to your muscles, which gets your circulation flowing.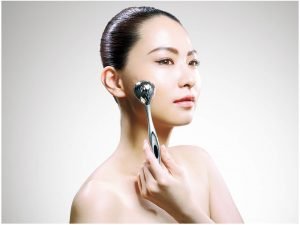 On the other hand, restricted circulation also results in tension headaches, and jade rollers help relieve this tension in your face and neck through lymphatic drainage. This boosts your skin's ability to bounce back from any issues such as blemishes and acne.
Another benefit of jade rollers is they help with even product distribution. Whether it's your favorite facial oil, or serum, using a jade roller to massage the product into the skin ensures even distribution. However, it's essential to note that jade rollers don't push products into the skin. Instead, they make sure no product goes to waste.
All in all, jade rollers work to make your face look more glowing and less puffy.
Best Jade Rollers to Use
To ensure you eliminate dark under-eye circles and facial puffiness, we've curated an edit of five of the best jade rollers.
1. Revolution Skincare Jade Facial Roller - White 2. brushworks HD Jade Roller 3. ESPA Aventurine Jade Facial Massage Tool 4. ReFa S Carat Ray Roller 5. Beauty ORA Crystal Face, Eye, and Body Roller
If you're looking for a salon-worthy facial massage product, this jade roller by Revolution Skincare is perfect for you. Designed to roll gently across your skin, this roller minimizes the appearance of dark circles and puffiness for a firmer complexion.
The HD Jade Roller by brushworks is a calming and cooling beauty tool designed to reduce enlarged pores and eliminate puffiness. Crafted with a dual-ended design, this roller targets every facial area and guarantees even application.
Achieve a glowing and soothing complexion with this jade roller from ESPA. Designed with a smooth semi-precious stone, this roller glides over your skin, reducing the appearance of puffiness while soothing skin.
Do you want to rejuvenate and tighten your skin? Consider this platinum roller by ReFa. Featuring a sleek and ergonomic design, this facial roller applies pressure onto the skin for a firmer appearance.
Crafted with pure crystals on each end, this facial massager enhances lymphatic drainage while reducing facial inflammation and puffiness. Inspired by ancient crystal therapy, this jade roller is perfect for improving skin firmness and elasticity.
A beauty enthusiast by heart and a plant lover, I'm always looking for the latest and greatest in skincare and beauty, especially clean and organic! I think everyone's entitled to high quality skincare at any budget, and I'm always on the lookout for what's new in the industry be it tips, tricks, or products!