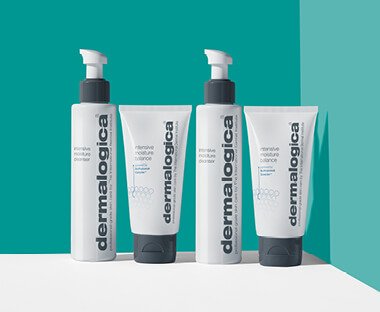 Hit skincare company Dermalogica is known for its minimalist packaging and science-based, ethical formulas.
Cruelty-free, gluten-free, and vegan, it's the brand of choice for skincare professionals and skin therapists worldwide.
To get you started on your journey with the brand, we've put together a guide to the best products the brand has to offer.
Read on to discover the best of Dermalogica, from the perfect cleansing gel to the most effective Dermalogica exfoliant.
5 Best Dermalogica products
1. Dermalogica Daily Microfoliant 2. Dermalogica Special Cleansing Gel 3. Dermalogica Sound Sleep Cocoon 4. Dermalogica Solar Defense Booster SPF 50x 5. Dermalogica Antioxidant HydraMist
Start the day with a fresh face using the Dermalogica Daily Microfoliant. This innovative enzyme powder micro-exfoliates, meaning that it performs a gentle form of exfoliation. It works to free your skin of dead skin cells and excess oils, leaving it smoother and more refined. When activated with water, this Dermatologica microfoliant releases papain, salicylic acid, and rice enzymes that loosen dead cells and unclog pores. The formula is supported by a complex of aspergillus, licorice, and grapefruit that brightens and balances uneven pigmentation. Plus, a soothing mix of ginkgo, green tea, and colloidal oatmeal helps calm and clarify skin. Good for use on all skin conditions, this product is free from artificial fragrances and colors.
For visible purity, cleanse your face with the Dermalogica Special Cleansing Gel. This foamy formula gently sweeps away impurities without affecting the skin's natural moisture balance. A soothing balm and mint work in tandem with lavender extracts to provide anti-inflammatory action, supported by detoxifying quillaja Saponaria. Skin is left feeling soothed and pristine without any dryness or tightness. It's perfect for use on combination to normal skin, and free from gluten, artificial colors, fragrances, and soap.
Sleep safe and sound with the regenerating Dermalogica Sound Sleep Cocoon. This overnight treatment takes advantage of the time when the skin is undergoing recovery and at its most receptive. Formulated in a comforting gel-cream, it uses tamarind seed polysaccharide to envelop the skin in a nourishing cocoon of moisture. Natural extracts of Persian Silk Tree and Wu-Zhu-Y restore radiance, while Vitamin C-rich Australian Kakadu plum extract refines skin tone. And to inspire total tranquility, aromatherapy is provided through French lavender essential oil, sandalwood, and patchouli. Rest well, and wake to find your skin visibly softer, plumper, and brighter.
For a carefree time in the sun, slather on this SPF 50 booster before stepping out. This broad-spectrum sunscreen provides expert defense against UV radiation, preventing your skin from developing signs of premature aging. Green tea and grape seed extract safeguard the skin against environmental toxins, while Vitamins C and E work to soften and smooth. It's an ultra-lightweight cream that melts right into skin, and can be worn directly on skin or mixed with a foundation or moisturizer. Good for use on all skin types, it's free from gluten, parabens, fragrances, and artificial colors.
Keep this HydraMist on hand for an instant pick-me-up any time of day. Acting as an antioxidant shield, this mist treatment keeps mature and prematurely-aging skin healthy and refreshed. It refines skin texture, delivers hydration, stimulates collagen formation, and protects against environmental aggressors. Antioxidant-rich licorice, white tea, and vitamin E combat free radicals and strengthen the skin's protective barrier. A patented polypeptide reduces the visibility of signs of aging, while a vitamin C complex and collagen-stimulating peptides promote skin elasticity. Plus, hyaluronic acid draws in moisture, supported by rejuvenating pea extract and refreshing rose and clove extracts. Skin is lifted, tightened, and firmed with this convenient mist that can be spritzed over makeup. It contains no artificial fragrances or colors.
To discover more Dermalogica skincare products, come on over to LOOKFANTASTIC today.
A beauty enthusiast by heart and a plant lover, I'm always looking for the latest and greatest in skincare and beauty, especially clean and organic! I think everyone's entitled to high quality skincare at any budget, and I'm always on the lookout for what's new in the industry be it tips, tricks, or products!