A beauty enthusiast since the age of 14, Ellie McDearman tackled her skincare concerns the same way she tackles her thriving beauty career, with hard work and dedication to perfection. Having rosacea and oily skin meant she had to find the perfect combo of clean, effective skincare that was also cruelty-free and had no gluten for medical reasons.

Her Instagram, @breakfastatellies, started as a way for her to share and connect with fellow beauty lovers and has grown to become a portfolio for her photography and her new life as an up and coming influencer in New York City. 
Top Products From Her Shelf: 
Paula's Choice Resist Youth-Extending Daily Hydrating Fluid SPF 50
I use this daily without fail. It's lightweight, leaves a beautiful satin-matte finish, and sinks in quickly – plus it's SPF 50 and cruelty-free!
Paula's Choice Hyaluronic Acid Booster 
This is the best HA serum out there. It's not sticky like some other hyaluronic acid serums and it hydrates almost instantly.
Dermalogica Active Clearing AGE Bright Spot Fader
This is the perfect product for my acne-prone, oily/combo skin. This fades spots left post-acne, while healing new blemishes before they can get too big.
VERSO Super Eye Serum
I use this nightly under my eyes and it works wonders. It's an amazing gel-cream texture, so it doesn't give those little milia bumps, and it helps hydrate and depuff instantly.
PIXI Glow Tonic
This is my all-time favorite toner. The 5% glycolic acid in it brightens and evens skin tone without causing any irritation. I recommend this to everyone I know!
Ditch the FOMO and Sign Up for Our Influencer Waitlist!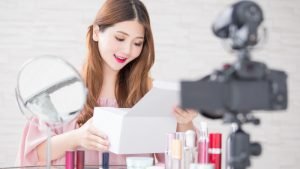 Are you an influencer? Then we are looking fantastically at you! Would you like to be a lookfantastic ambassador? Please feel free to sign up on our forms sheet to be waitlisted* for upcoming sendouts, blog features, event invites and more! 
*Signing up for the waitlist does not guarantee participation in marketing campaigns or invites to events. All influencers will go through a vetting process and will be reached out to accordingly to continue the on-boarding process.
A beauty enthusiast by heart and a plant lover, I'm always looking for the latest and greatest in skincare and beauty, especially clean and organic! I think everyone's entitled to high quality skincare at any budget, and I'm always on the lookout for what's new in the industry be it tips, tricks, or products!