Any skincare aficionado knows the importance of wearing sunscreen. This key product protects the skin from ultraviolet rays that can lead to sunburn, wrinkles, and brown spots. It's the best way to take initiative against signs of aging caused by sun exposure. And, it can prevent you from developing skin cancer. There's simply no reason not to make sunscreen part of your daily routine.
Choosing the right sunscreen, however, can be a little tricky. Today's market is inundated with endless different types of sunscreen with different ingredients and SPFs. So how do you find the perfect formula for you?
What does SPF Mean?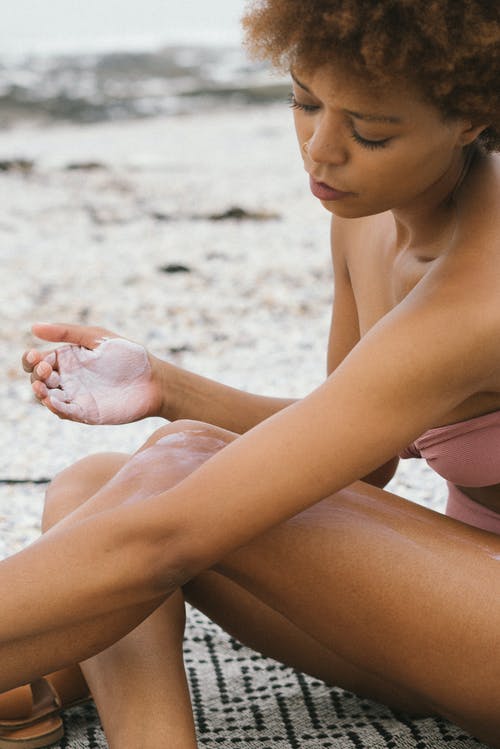 First off, it's important to understand what sun damage really entails. There are two types of ultraviolet rays present in sunlight, UVA and UVB. UVA rays have a longer wavelength and penetrates more deeply than UVB rays, leading to effects like tanning and wrinkles. UVB rays have a shorter wavelength and can cause sunburn and blistering. Both types of rays can result in skin cancer as well as premature aging. Most sunscreens contain active ingredients that protect against UVB rays. For protection against UVA rays, however, you'll want to choose a product that also offers broad-spectrum protection, meaning that it will protect you against both UVA and UVB rays.
When shopping around for a sunscreen, pay attention to the sunscreen rating SPF. The Sun Protection Factor is a measure of how well the sunscreen protects against ultraviolet B, or UVB. This number indicates the amount of time it would take for UVB rays to burn your skin when wearing the product compared to how much time it would take without any product. So what does SPF 30 mean? If your skin takes 10 minutes to start reddening when exposed to full sunlight without any product on, a sunscreen with an SPF of 30 would make that 30 times longer. In this case, you'd get 300 minutes of protection.
Do note, however, that no matter how effective the sunscreen is, it still needs to be re-applied regularly for best results. Wear-off may occur from sweat and water. SPF numbers are also not an exact science, and some skin types may require more protection than others. The best rule of thumb is to use a broad-spectrum sunscreen at a minimum of SPF 30 minimum.
To help you get started on finding the right sunscreen, check out three top-quality sunscreens we recommend.
Top sunscreens for UV defense
1. EltaMD UV Clear Broad-Spectrum SPF46 2. EltaMD UV Lotion Broad-Spectrum SPF30+ 3. Elta MD UV Shield SPF 45
1. EltaMD UV Clear Broad-Spectrum SPF46
Sensitive skin types can sigh a breath of relief with the EltaMD UV Clear Broad-Spectrum SPF 46. This double-duty sunscreen combines UVA/UVB protection with relief for acne and skin discoloration. The formula is bolstered by zinc oxide, a natural mineral compound that defends the skin from UVA and UVB rays. An infusion of Vitamin E combats free radicals to minimize signs of aging, while Vitamin B3 supplies anti-inflammatory action that reduces redness and relieves dry or damaged skin. Hyaluronic acid seals in moisture and enhances suppleness. A pleasantly light, oil-free texture makes it easy to apply and wear with or without makeup. Suitable for wear on all skin types.
2. EltaMD UV Lotion Broad-Spectrum SPF30+
Keep your skin protected and dewy fresh with the Elta MD UV Lotion Broad-Spectrum SPF 30+. This moisturizing sunscreen offers broad-spectrum protection while also delivering deep hydration. Zinc oxide works to reflect and scatter both UVA and UVB rays, while antioxidant Vitamin E reduces visible indicators of aging by fighting free radicals. Hyaluronic acid reduces flaking and keeps skin supple by helping to retain moisture. Lightweight and grease-free, this formula can be worn alone or under makeup. Great for all skin types.
Slather on this easy-to-use skin protectant for carefree time in the sun. The Elta MD UV Shield SPF 45 is lightweight, oil-free, and residue-free. 9% micronized zinc oxide safeguards the skin against UVA and UVB rays, supported by additional protection from 7.5% octinoxate. You can wear this sunscreen with or without makeup, and it's good for use on all skin types, including difficult skin conditions like acne and rosacea.
To discover more great sun protectant products available in the US, visit LOOKFANTASTIC today.
A beauty enthusiast by heart and a plant lover, I'm always looking for the latest and greatest in skincare and beauty, especially clean and organic! I think everyone's entitled to high quality skincare at any budget, and I'm always on the lookout for what's new in the industry be it tips, tricks, or products!