Why is my eye swollen? How do you get rid of swollen eyes if you've woke up with swollen eye bags? These are questions that no one wants to ask but don't panic. Swollen eyes are frequently the result of mild stress on the eye from crying or rubbing, facial injuries, surgery, or allergic reactions. While they can be a sign of more serious underlying conditions, swollen eyes are often mild in nature and can often be alleviated with a swollen eye remedy.
Why You May Get Swollen Eyes
In many cases, swollen eyes are brought about by allergic reactions to food, drugs, and bee stings. They can also be the side effect of a food allergy or hay fever, which tend to cause accompanying itchy eyes and sneezing. Another common culprit is infections like ocular herpes, sinus infections, or pink eye. Conditions affecting the eyelash follicle or eyelid glands like styes and chalazion could be to blame as well.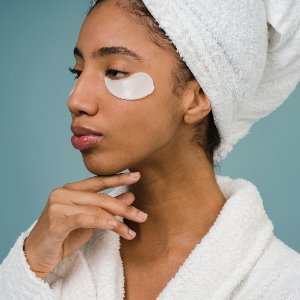 The best thing to do is to seek help from a medical professional, especially if you are experiencing other vision-related symptoms or suffering from chronic or severely swollen eyes. Even if the problem isn't so severe, a doctor can prescribe you an anti-histamine to manage the allergic reaction or antibiotics for bacterial infections.
In the meantime, you can treat mildly swollen eyelids or skin that's swollen under eyes right at home. Don't rub your eyes, as this could further aggravate the swelling. Do apply cool or cold compresses to help relieve the redness and swelling, and try cold tea bags to reduce puffiness with the help of caffeine. Additionally, you should sleep with your head elevated to drain away excess fluids from the fragile skin around your eyes.
Looking for solutions in your medicine cabinet and vanity table? Try rinsing the eye with an over-the-counter sterile saline solution and stick to using preservative-free eye drops. Prevent allergic reactions by using only hypoallergenic cosmetic products. Warding off infections can be done by cleansing your eyelids with a gentle cleanser, like watered-down baby shampoo, twice a day. Above all, keep your eye makeup to yourself and don't share it with anyone to limit the risk of infections.
With mild eye swelling, the swelling should only last for a short time, so with any luck, you'll be well on your way to enjoying bright and healthy eyes again.
To help you get there, we recommend the following 5 remedies for swollen eyes.
5 Remedies for Swollen Eyes
1. Soon Skincare Hydrating Blueberry Hydrogel Eye Jar 2. Slip Silk Sleep Mask 3. REN Clean Skincare Keep Young and Beautiful Firm and Lift Eye Cream 4.NUXE Buckwheat Anti-Puffiness, Anti-Dark Circles Reviving Eye Care 5. Estée Lauder Advanced Night Repair Eye Concentrate Matrix Synchronized Recovery
Poor sleep, sun damage, hang-overs, long flights - these are all common problems affecting the delicate skin of the eyes. So help replenish them with the Hydrating Blueberry Hydrogel Eye Jar from Soon Skincare. These under-eye patch masks are soothingly gel-like and great for relieving stressed-out skin afflicted by dark circles, puffiness, and more.
Sleep in perfect peace with these super-luxe slip-silk pillowcases that are soft and easy on the skin.
Reduce dark circles in just a week with the Skincare Keep Young and Beautiful Firm and Lift Eye Cream from REN. This irritation-free formula is packed with bioactives that brighten and moisturize the sensitive eye area.
Revive puffy or tired eyes with the NUXE Organic Energising Eye Care. Specially designed for the delicate eye area, this sensitive formula rehydrates the skin to combat visible signs of fatigue. Lightweight yet rich, the lotion has a velvety texture that is rapidly absorbed by the skin, delivering almost instant nourishment.
Maximize the overnight healing of your eyes with the Estée Lauder Advanced Night Repair Eye Concentrate Matrix Synchronized Recovery. This reparative formula strengthens, nourishes, and reduces visible signs of aging. The skin around the eyes is left looking and feeling more supple, plump, and youthful.
For more easy and elegant solutions to all kinds of skin concerns, visit LOOKFANTASTIC today.
A beauty enthusiast by heart and a plant lover, I'm always looking for the latest and greatest in skincare and beauty, especially clean and organic! I think everyone's entitled to high quality skincare at any budget, and I'm always on the lookout for what's new in the industry be it tips, tricks, or products!