The holidays are coming, which means it's time to start thinking about your holiday makeup! A classic red lip and golden eye are perfect for the holiday season, so follow our celebrity-inspired holiday makeup tutorial to help you get Emma Roberts' gorgeous makeup look.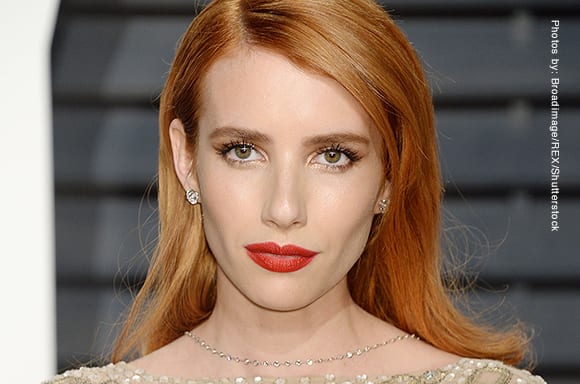 The Holiday Makeup Kit
For this holiday makeup tutorial, you'll need to get your hands on:
Step 1
Start by applying your favorite foundation, primer, blusherand bronzeras you usually would. Try not to go heavy with the blusher and bronzer - you want to keep your complexion fresh and neutral and keep all of the attention on your eyes and lips. Next, fill in your eyebrows using your favorite eyebrow products.
My go-to eyebrow product is the Stila Stay All Day Waterproof Brow Color in 'Dark'. It's super-easy to apply and does not budge throughout the day.
Step 2
Next, it's time to move onto the eyes!
Start by priming your eye lids with the NYX Eyeshadow Primer. This will ensure that your eye makeup doesn't smudge or crease throughout the day, as well as making the colors really pop.
Using a fluffy eyeshadow brush, use the NYX Professional Makeup Ultimate Shadow Palette.
For an extra bit of Christmas sparkle, apply some of the Stila Shimmer & Glow Liquid Eye Shadow  onto the very centre of your eyelid. This highly-pigmented, glittery eyeshadow is the perfect addition to your holiday makeup.
Step 3
Now it's time to add the finishing touches to your eyes.
Before you apply your eyeliner, add some adhesive onto your Ardell Naked Lashes 420 so that they're ready to apply once you've applied your eyeliner.
Next, take your Illamasqua Precision Ink Eyeliner and trace a thin line along your lash line, before creating a simple, subtle flick. This eyeliner is among the best I've ever used - the super-fine tip and incredible formula glides effortlessly onto the lash line, helping you to create the perfect precise line.
While you were doing your eyeliner, your eyelash glue should have dried slightly and become 'tacky' - this is the best time to apply your lashes. If you're a false lash newbie, then read our expert guide to applying lashes.
Step 4
Finally, it's time to move onto that gorgeous red lip.
Start by lining your lips with the NYX Professional Makeup Suede Matte Lip Liner - this will help you to achieve a precise lipstick application, as well as helping it to last all day long.
Using a lip brush to apply your lipstick will help to create a precise, neat application. Lip brushes also help to really pack the pigment onto your lips, helping your lipstick to last much, much longer.  Apply your Elizabeth Arden Lipstick the Lip Brush from the Real Techniques Lip Color & Blur Brush Set to finish off your beautiful holiday makeup.
We'd love to see pictures of your holiday makeup. Tag us on Instagram and show us your handy work!
As a qualified make up artist, I love all things make up! I'm also really passionate about health and nutrition, so I'm always on the look out for the latest Superfood to improve my skin, nails and hair!