Holidays can be a stressful time for all of us, especially on our skin. See how one of the latest trends in skincare, CBD, can help your skin take a breather this winter! 
All About CBD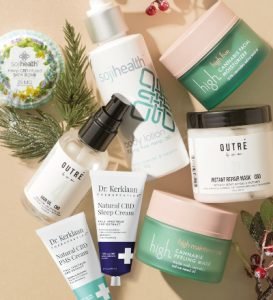 So, what exactly is CBD skincare? Its skincare products with ingredients derived from Cannabis sativa. The plant has an unequaled fatty acid profile of any plant in the world. Its unique concentration of essential fatty acids (EFAs), antioxidants, and proteins nourish, protect, and renew skin in the most compatible and natural way possible.
To get to the nitty gritty, its perfect 3:1 ratio of omega-6 (linoleic acid) to omega-3 (alpha-linolenic acid) EFAs help balance and repair the skin's natural barrier. Also, Cannabis sativa seeds are a complete protein source with all twenty amino acids in combination with vitamins A, B1, B2, B3, B6, C, D, E and arginine. 
So, what does that mean for your skin? It means that these essential compounds prevent free radical damage, protect the skin with potent antioxidants, and delay the aging process.
CBD Brands to Try this Winter 
So which brands have this miracle ingredient in them? Believe it or not, a few brands that are already on our site! 
Anti-aging, anti-inflammatory, acne reducing, and minimizing oiliness, brands like High Beauty, Soji Health, Dr. Kerklaan and Outré CBD give the newest sensation in skincare a good name with ethics and high impact results in mind.  
From inner wellness like the doctor's PMS cream to keeping your locks soft and bouncy by using Outré's Repair Mask and Hair Oil, these products are the perfect regimen additions to even the most sensitive skin types. And a cute stocking stuffer for the holiday season!
A beauty enthusiast by heart and a plant lover, I'm always looking for the latest and greatest in skincare and beauty, especially clean and organic! I think everyone's entitled to high quality skincare at any budget, and I'm always on the lookout for what's new in the industry be it tips, tricks, or products!