With the heat cranking up fast during the summer peak, it's hard to keep skin clear and refreshed while staying hydrated. 
But this month, our Beauty Bag is packed with the summer skincare essentials you need from the brands you love, and more! This 10-piece bag, valued at $131, is yours with every $100 purchase! Here are our favorite staples from this month's Beauty Bag. 
DHC Deep Cleansing Oil 
Performing a deep clean on skin, this vitamin-rich cleanser glides effortlessly across the face and transforms into a milky, comforting emulsion upon contact with water. Its water-soluble formula rinses clean effortlessly, and effectively lifts away makeup and impurities. 
KLORANE Dry Shampoo 
For the girl on the go, a dry shampoo is a must for removing excess product buildup and oils. Fortified with Oat Milk, this dry shampoo still nourishes your hair as it extends your wash day a little longer in the summer heat. 
Erno Laszlo Hydrotherapy Sleep Mask 
Wake up moisturized with this sleeping mask and it's rich formula that replaces loss moisture whilst helping to retain hydration all day. Working overnight, it plumps and firms the skin to reduce wrinkles and restore elasticity. 
Hero Cosmetics Mighty Patch 
Say goodbye to summer acne in a flash with Hero Cosmetics' Mighty Patch! These pimple fighting ingredient packs are perfect for the unwelcome surprises that come with large pores and intense heat. Apply them over pimples, cystic acne, and even blackheads and go about your day like they never existed (psst, you can apply makeup over them!). 
Pimple, where? Not here this summer!
And there's more!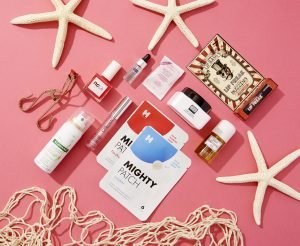 Remember, these products are part of a 10-piece set that's your with every $100 purchase. And with a bag that's valued at $131, it's like getting double the skincare for half the price! So get to shopping and saving with our sales and deals at Lookfantastic!
A beauty enthusiast by heart and a plant lover, I'm always looking for the latest and greatest in skincare and beauty, especially clean and organic! I think everyone's entitled to high quality skincare at any budget, and I'm always on the lookout for what's new in the industry be it tips, tricks, or products!