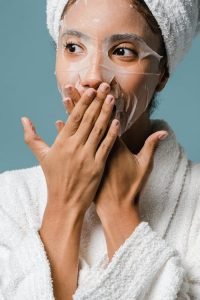 Whether your skin is oily, dry, or you're battling irritation, there are face masks for your skin that can help.
With the ability to clarify, brighten, and moisturize, this 10-minute solution can offer your skin immediate relief!
So here's our top 5 list of face masks for your skin!
5 of the Best Face Masks for Skin
1. PIXI GLOW Glycolic Boost Sheet Mask 2. REN Clean Skincare Glycol Lactic Radiance Mask 3. BeautyPro Eye Therapy Under Eye Mask with Collagen and Green Tea Extract 4. ESPA Clarifying Clay Mineral Mask 5. Estée Lauder Perfectly Clean MultiAction Foam Cleanser and Purifying Mask
To help you find affordable, relaxing skincare, let's look at these in more detail:
Give your skin an intense radiance boost with PIXI GLOW Glycolic Boost Sheet Mask - a hydrating and brightening sheet mask pack. This exfoliating mask contains 5% Glycolic Acid, Ginseng, and Aloe Vera to revitalize skin for a luminous glow.
This sheet mask is enriched with herbal extracts that enhance brightness, help to maintain skin health, and also refine the skin with gentle exfoliation. With peptides and collagen that help to hydrate and plump skin, this biodegradable sheet mask helps to improve skin firmness and elasticity.
Are you ready to reveal a brand new skin complexion? Well, the REN Clean Skincare Glycol Lactic Radiance Mask dramatically improves skin tone and texture, leaving it with a glowing and flawless appearance. The sheet mask is great for mature, congested, and sun-damaged skin.
Containing 6% Glycolic Acid, it gently and effectively exfoliates away dirt. This helps to actively dissolve dead skin bonds to reveal a healthy glow. With a blend of Lactic, Glycolic, Tartaric, and Citric Acid, REN Clean Skincare Glycol Lactic Radiance Mask gently exfoliates and reduces the look of wrinkles and fine lines.
Being one of the best eye masks available, BeautyPro Eye Therapy Under Eye Mask with Collagen and Green Tea Extract reduces puffiness and treats swollen, tired eyes while diminishing signs of fine lines and wrinkles. It is an intense cooling and soothing treatment for the under eyes.
Combined with key botanicals, vitamins, and herbs, this under-eye treatment can help improve tone and elasticity to leave you and your under eyes feeling very relaxed in just 20 minutes.
This is one of the best clay masks for balancing excess skin oils, leaving the skin feeling purified and soothed with hydration. A mineral-rich cleansing treatment, it contains Rose Geranium and Kaolin Clay to clear impurities, congestion, and excess oils, while Marshmallow and Rose Damascena calm and soften, and Benzoin leaves a nourishing effect on the skin.
Treat your skin with this rich-foaming cleanser that cleanses gently yet thoroughly. This three-minute purifying mask rapidly lathers into a rich-foaming cleanser, gently removing makeup and other impurities without drying. Its creamy formula helps to unclog pores, leaving the skin looking luminous, healthy, and fresh.
With next-generation cleansing technology, combined with natural minerals and skin-loving botanicals for a deep but gentle cleanse, this treatment is formulated to pamper skin with refreshing foam to cleanse gently but thoroughly.
Why are Face Masks For Your Skin So Great?
Well, sheet masks hold ingredients onto the skin and compress them to enhance their benefits. Packed full of nourishing ingredients, sheet masks tighten, brighten, even out skin tone, and boost your overall complexion.
You don't have to wait. Find the best sheet mask in the US today right here at LOOKFANTASTIC!
A beauty enthusiast by heart and a plant lover, I'm always looking for the latest and greatest in skincare and beauty, especially clean and organic! I think everyone's entitled to high quality skincare at any budget, and I'm always on the lookout for what's new in the industry be it tips, tricks, or products!