In honor of Women's History Month, our LOOKFANTASTIC Beauty Box is celebrating all thing's strong women – may we know them, may we be them, may we raise them. This month's 'Beauty Beyond Boundaries' Edition is all about helping our subscribers feel their most happy, beautiful, empowered self.
To do this, we're giving you not only a specially-designed box created by our team of amazing in-house designers but also an additional product inside the box! Our March box has 7 products inside and is worth over $55.
What's Inside Our LOOKFANTASTIC March Beauty Box
Christophe Robin Regenerating Mask with Rare Prickly Pear Seed Oil (50ml)
Perfect for very dry and damaged hair, the Christophe Robin Regenerating Mask with Rare Prickly Pear Seed Oil restores and revitalizes your locks from root to tip. Enriched with pure prickly pear seed oil, it has antioxidant and regenerative properties, penetrating deep into the hair to repair it from within.
Not only does it repair and protect the lengths of your hair, but it also stimulates your scalp and protects your hair from split ends and further breakages.
AHAVA Mineral Deadsea Mud Soap (full-size)
This luxurious, lathering soap contains the deep cleaning properties that are inherent in mineral-rich Dead Sea mud. It delicately scrubs away dirt and environmental pollutants trapped in oily complexions and removes all residual skin secretions.
Bloom & Blossom Wonder Worker Mutli-Tasking Balm (15ml)
Harnessing the powers of nature, the Bloom and Blossom multi-tasking balm is a versatile skin-loving superhero that can be used all over the body. Blended with a whole host of nourishing botanicals, the balm conditions and hydrates your skin for a silkier-feeling surface. Whether you're in need of a treat for your body, lips or hands, the Wonder Balm will be there for you.
Lottie London AM to PM Retractable Black Eyeliner (full-size)
Add drama and definition to your eye-area with Lottie London's 'AM to PM' retractable eyeliner. Soft and supple, the formula glides effortlessly across your skin, avoiding any pull or discomfort that could lead to redness or irritation. A gel-like finish offers the option to create a daytime aesthetic or a grungy, smudged and party-ready one, allowing the eyeliner to be highly versatile. Complete with a retractable feature, you can be safe in the knowledge that the tip of the liner will remain safe, sharp and secure.
Brushworks DUO Eye Brush (full-size)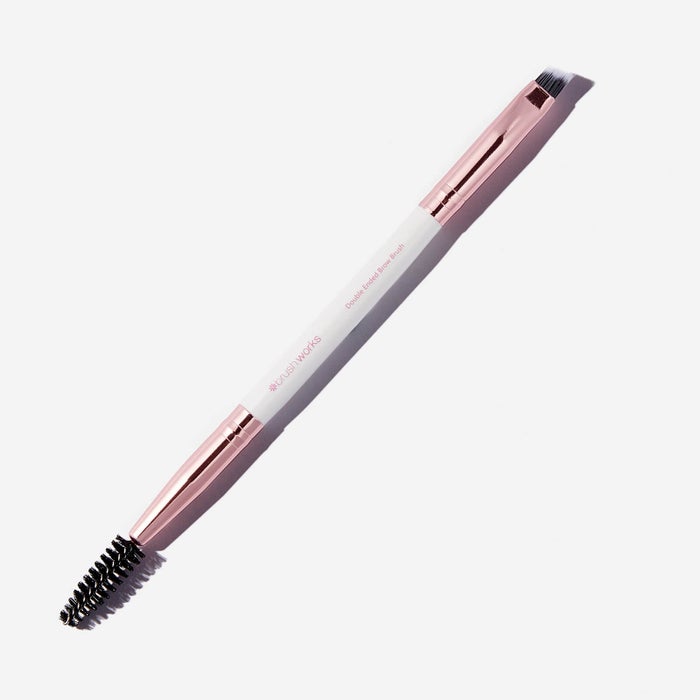 This dual-ended brush features two brushes that help to fill in and shape your brows.
Used the angled end to create natural, hair-like strokes, whilst the thicker end can be used to fill in larger areas, carve out the arch with concealer, or apply highlighter to the brow bone.
First Aid Beauty Facial Radiance Pads (10 pack) OR Coconut Water Cream (9.6g)
Inspire a natural, healthy glow with the First Aid Beauty Facial Radiance Pads. Combining the perfect amount of lactic and glycolic acids to make the pads safe for daily use, they work to improve skin's clarity whilst visibly reducing the look of pores and diminishing the appearance of fine lines for a brighter, smoother, younger-looking complexion. Or, you may receive this superfood-powered, oil-free priming moisturizer that brightens and smooths, while giving skin a dewy glow. With vital proteins, electrolytes and minerals this product hydrates and smooths while light-reflecting micro-pearls provide dewy luminosity.
Polaar IceSource Ultra-Moisturizing Mask (20ml)
Refreshing and revitalizing, the face mask immediately delivers long-lasting comfort and moisture thanks to a blend of three, thirst-quenching active ingredients that nourish your complexion. Formulated using Iceberg Water, this incredibly pure ingredient wards off dryness and dehydration alongside Hyaluronic Acid, which acts like a sponge in your skin to ensure all essential moisture is locked in.
A beauty enthusiast by heart and a plant lover, I'm always looking for the latest and greatest in skincare and beauty, especially clean and organic! I think everyone's entitled to high quality skincare at any budget, and I'm always on the lookout for what's new in the industry be it tips, tricks, or products!