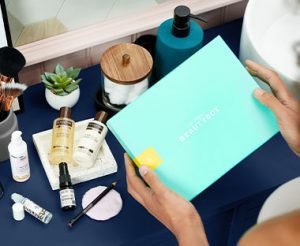 Hey there beautiful, and happy January!
Now that the holidays are behind us, it's time to look  at our January Beauty Box! 
Remember, this box was curated to help you prep for 2020 by leaving the holiday stress behind!
Like before, this month's box comes with the latest issue of ELLE and our own beauty box edit full of tricks, tips, and trends in beauty you love in a now recyclable box!
Did you enjoy your January pick me up? Let's run though what was in our post-holiday detox kit, The Revive lookfantastic Beauty Box!
E-Cooking Moisturizing Serum
Enriched with hyaluronic acid, the weightless formula absorbs quickly into the skin to replenish optimum levels of moisture and hydration, without leaving a greasy or sticky veil. 
Lord & Berry Ultimate Lip Liner
Formulated with macadamia oil and waterlily extracts, and enriched with LXB complex to soften and protect the delicate skin around the lips. It offers the ultimate in blendability for natural lining, as well as being easy to use and comfortable to wear.
GLOV Moon Pads
These reusable pads are a sustainable alternative to makeup wipes, many of which end up polluting the oceans. Machine washable to allow for long-lasting effectiveness, each pad is crafted from micro fibers that grab makeup particles, dirt, oil and impurities to provide a deep cleanse and exfoliation in one.
Speaking of sustainable, did you know that our boxes are now biodegradable? We're keeping the environment in mind in our packaging this year at lookfantastic. 
Australian Bodycare Spot Stick: Tea Tree Oil
Banish unsightly blemishes with the Australian Bodycare Apothecary Range On-The-Spot Stick (9ml). Especially ideal for acne-prone skin, it contains 10% tea tree oil, which quickly reduces the bacteria that can lead to spots and breakouts. Meanwhile, witch hazel soothes and calms the skin, helping reduce redness and inflammation.
Jo Hansford Shampoo & Conditioner
Formulated with sweet blue lupin peptides in its ingredients, this combo is one of the few Ecocert natural ingredients to have been scientifically proven to keep hair color-fast for up to 30 washes. 
Which, as someone with dyed hair, sounds like my prayers are answered! 
Working to enhance the appearance of colored hair, they contain the Heliovita Colour Care Complex, leaving hair looking and feeling healthy.
Mio Skincare Boob Tube 
A real treat for the chest region, this Mio Skincare Boob Tube + Multi-Action Bust Cream gives it a glow within a matter of days. Boob Tube delivers a brightening action, too, making sun damaged skin look just fabulous.
OR 
Skin Tight 
Help improve the appearance of saggy and tired skin with the Mio Skincare Skin Tight Body Serum; an innovative formula that absorbs quickly to help the skin look smooth and even.
OR 
Shrink to Fit Cream
Target all areas of concern with the Mio Skincare Shrink To Fit Cellulite Smoother; an innovative formula that works to minimise the appearance of cellulite and uneven, bumpy skin.
Stay tuned for the reveal of our next theme in February, and keep looking fantastic!
Love Beauty? discover our edit of the best beauty box to add to your collection.
A beauty enthusiast by heart and a plant lover, I'm always looking for the latest and greatest in skincare and beauty, especially clean and organic! I think everyone's entitled to high quality skincare at any budget, and I'm always on the lookout for what's new in the industry be it tips, tricks, or products!