Whether they're the result of aging or the toll of modern-day stress, lines on the forehead can seriously cramp your style. Here's how to get rid of forehead lines, so that you can get back to your best life with a clear head and smooth skin.
What Causes Forehead Lines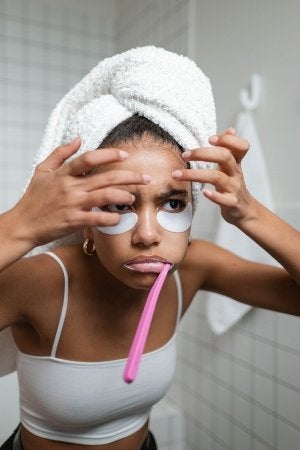 Frowning and furrowing your brow are major culprits for forehead lines. The root cause is often stress and the resulting, repetitive expressions that cause fine lines to develop.
Forehead lines can also become more noticeable as your skin loses elasticity with age or due to excessive sun exposure.
How to Get Rid of Forehead Lines
Forehead lines can be diminished in appearance through lifestyle adjustments and skincare products.
You can fade away forehead lines by taking care of yourself inside and out.
Plump up your skin with proper water intake and hydrating products to see forehead lines lose their prominence.
Eat plenty of Vitamin C and Omega-3 fatty acids like linolenic acid to prevent dry skin and defined lines, while avoiding fats and carbs to stop skin atrophy.
What Products to Use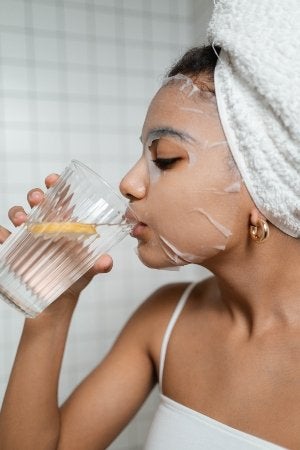 Add retinol, a powerfully rejuvenating form of Vitamin A, to your skincare arsenal and watch forehead lines smooth out. Retinol promotes collagen production and skin cell turnover, keeping the skin surface youthfully refreshed.
You can also exfoliate using glycolic acid, an alpha-hydroxy acid, to reveal smoother skin. Don't neglect to follow up with hydrating products like plumping masks, serums, and intensive treatments to seal in moisture.
Preventing Forehead Lines
Stop skin aging in its tracks with daily application of SPF 15 or higher. Broad-spectrum sun protection protects skin against damage from UVA and UVB rays, reducing the risk of fine lines, wrinkles, and dark spots.
But while you stay out of the sun, make sure to find and hold onto the light in your life. Stay positive and manage stress, and you can put a stop to the development of frown lines.
5 Products to Effectively Get Rid of Forehead Lines
1. Elemis Peptide4 Plumping Pillow Facial 2. PIXI Collagen Plumping Mask 45ml 3. Caudalie Vinosource SOS Serum 1oz 4. Estée Lauder Perfectly Clean MultiAction Foam Cleanser and Purifying Mask 150ml 5. Balance Me Hyaluronic Plumping Mist 30ml
Sweep away your woes and wrinkles with the Peptide4 Plumping Pillow Facial, the 'facial in a jar' that targets all kinds of problems. This gel mask works to hydrate, replenish, and repair overnight as you sleep. Harnessing the flower power of star arvenis, Indian night jasmine, and botanicals like ylang-ylang, sweet orange, and night-scented stock, it swathes the skin in a biomimetic veil of goodness. Peptide4 supports the skin's natural barrier, and skin is left plumped up, silky-smooth, and youthfully radiant. Great for use on all skin types.
Trust PIXI Collagen Plumping Mask to powerfully redefine and revitalize facial contours. Formulated with amino acids and botanical collagen, this leave-on treatment boosts volume, elasticity, and firmness. Moisture and hydration are replenished, softening fine lines and enhancing radiance for a youthfully glowing complexion.
Caudalie Vinosource SOS Thirst Quenching Serum has you covered for the day when it comes to hydration. Lightweight and deep-acting, the serum diffuses moisture continually through all layers of skin for dewiness that lasts. Antioxidant-rich ingredients like hyaluronic acid, organic grape water, vinolevure, and squalene smooth, soften, and plump up the skin. Anti-aging and anti‐wrinkle properties come as part of the package, too.
Delicate notes of fresh mint, lemon tree leaves, mandarin blossom, and cucumber water make each use pleasant and refreshing. Great for any type of skin, and ideal for dry and dehydrated types.
Purifying without being overpowering, the Perfectly Clean MultiAction Foam Cleanser and Purifying Mask from Estée Lauder is gentle on fatigued skin. Lather up the creamy formula into a rich foam for a deep cleanse that sweeps away impurities and unclogs pores. A proprietary cleansing technology works with natural botanicals and minerals to leave skin fresh and radiant. Great for use as a daily cleanser morning and night, or as a purifying mask twice a week.
Balance Me's Hyaluronic Plumping Mist delivers ultra-hydration in a spritz. Great as a toner post-cleansing or a pick-me-up any time of day, this 99% natural spray soothes, plumps, and quenches tired skin. An infusion of pineapple, chamomile, and bergamot oils works in tandem with hyaluronic acid to refresh and restore. Weightlessly light, it leaves a smooth finish and lasting protection.
Take a dip into the fountain of youth and shop LOOKFANTASTIC today.
A beauty enthusiast by heart and a plant lover, I'm always looking for the latest and greatest in skincare and beauty, especially clean and organic! I think everyone's entitled to high quality skincare at any budget, and I'm always on the lookout for what's new in the industry be it tips, tricks, or products!