See the next best tool in your beauty arsenal with Spa Sciences!
About the Brand
Spa Sciences believes that people should have happy-healthy, radiant skin without spending hundreds of dollars for great skincare. As an American-based innovator and distributor both online and with local retailers, the brand is proud to offer their customers the ability to "bring the spa home with you" through the advanced technology of their beauty devices.
Spa Sciences's NOVA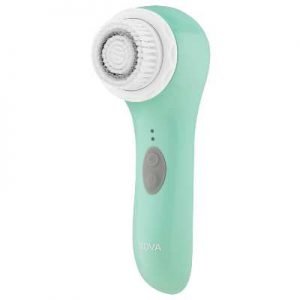 NOVA is a
waterproof, rechargeable
sonic cleansing brush that features both sonic technology and patented
antimicrobial protection
to provide the highest level of daily cleansing and exfoliation. It effectively cleanses your skin 7 X better than manual cleansing, getting deep into the pores to
eliminate dirt, oil, makeup and debris
as well as dulling dead skin cells to give you a
cleaner, smoother, softer and brighter
complexion. With a perfectly cleansed canvas, serums, creams and moisturizers are better able to absorb to give you quicker and more effective results and makeup looks more flawless.
Dermatologists agree that properly cleansing and exfoliating the skin is the most critically important step in any skincare routine if you really want a flawless, youthful and radiant complexion.
How To Use
Step One: Moisten your brush head and apply your favorite daily cleanser. We'd suggest using this in your skincare routine when you're doing your second cleanse, or after you washed off your makeup with an oil-based cleanser. 
Step Two: Activate the brush and begin making small overlapping circular motions all over the desired cleansing area. Some people start from one side to the other, top to bottom, or vice versa. Work with what's comfortable with you! 
Step Three: Rinse the brush head and skin completely, then enjoy your refreshed, more youthful-looking complexion. Now, let's give your clearer skin the beauty routine it deserves!
A beauty enthusiast by heart and a plant lover, I'm always looking for the latest and greatest in skincare and beauty, especially clean and organic! I think everyone's entitled to high quality skincare at any budget, and I'm always on the lookout for what's new in the industry be it tips, tricks, or products!