Learn about the Advanced Night Repair and all things Estee Lauder in our brand launch blog! 
Innovation in Marketing
Estée Lauder, the world's first female entrepreneur, founded her company in 1946 armed with four products and an unshakeable belief that "Every woman can be beautiful." From launching a beauty empire, to inventing the world's first serum in 1982 (then called Night Repair), she has inspired women everywhere.
To announce the brand's arrival at an upscale department store, Estée sent out elegant white cards with gold lettering to inform the store's customer list that she would be offering a free cream-based powder with every purchase. Within two days, the entire stock was sold out—and the beauty industry's "gift with purchase" marketing concept was born. Fast forward to now, the brand continues her legacy of creating the most innovative, sophisticated, high-performance skincare and makeup products and iconic fragrances.
So what's the first collection of products coming to our site?
Advanced Night Repair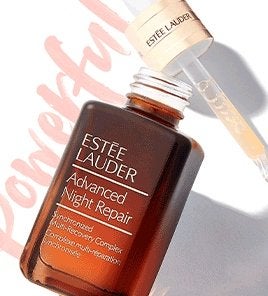 This breakthrough serum,
Advanced Night Repair
, harnesses the restorative power of night to deliver visible renewal.
It works night and day to help skin maximize its overall natural rhythm of repair and protection.
Packed with the brand's patented Chronolux™ Power Signal Technology, 8-hour anti-oxidant power and Hyaluronic Acid, it significantly reduces the look of multiple signs of aging caused by the environmental assaults of modern life.
The result? Skin looks smoother and less lined, younger, more radiant, and even-toned. Proven effective for all skin tones, this is the one formula beautiful skin can't live without!
A beauty enthusiast by heart and a plant lover, I'm always looking for the latest and greatest in skincare and beauty, especially clean and organic! I think everyone's entitled to high quality skincare at any budget, and I'm always on the lookout for what's new in the industry be it tips, tricks, or products!