What does your body care routine look like? Shaving your legs, body lotion, the occasional exfoliating scrub? We've discovered a new favorite product that can be used all over the body and nourishes, repairs and soften the skin. The cult-favorite Huile Prodigieuse Multi-Purpose Dry Oil from NUXE does all this and more. We've rounded up our favorite NUXE products to help you revamp your body care routine for the dry, cold winter months, when your skin could use a little extra love.
This is our #1 favorite NUXE products. With so many different uses, this is bound to become a new staple in your routine. Vitamin E combines with camellia, hazelnut, borage, St. John's Wort, sweet almond and macadamia plant oils to provide ultimate hydration and leaves skin feeling incredibly soft. This oil also protects against free radicals with the addition of Tsubaki Oil. Aside from helping your skin look and feel its best, this oil can also be used on your hair for luxurious repair and high shine.
We recommend using this oil everywhere! Add a drop to your foundation for smoother application, massage into the hair as a deep conditioning mask, or apply to the skin to help alleviate the appearance of stretch marks. This dry oil will help you stay hydrated and protected from head to toe this winter!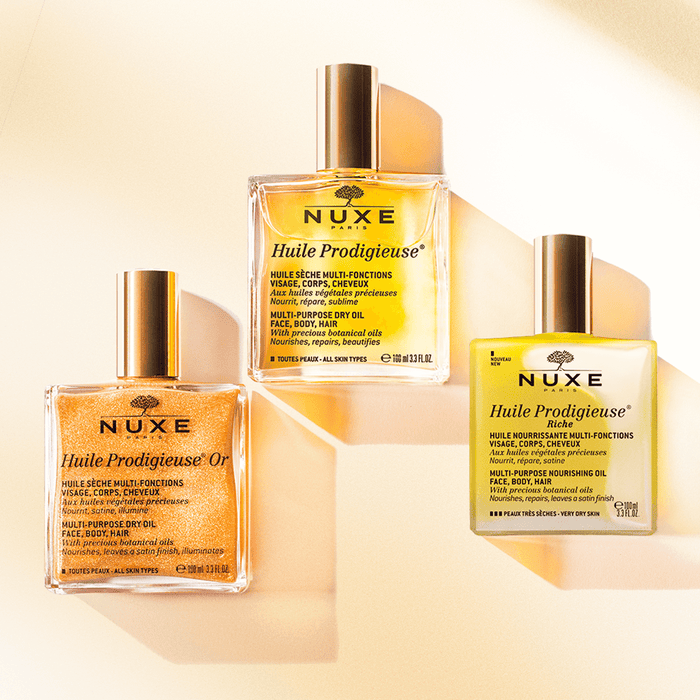 While NUXE's multi-purpose dry oil can be used nearly everywhere on your body, you need something specifically for your lips to keep them hydrated, protected and nourished. This incredible lip balm instantly soothes damaged lips. Acacia honey and shea butter work together to nourish and repair your lips and grapefruit essence helps provide a sense of well-being. Share the love and gift this lip balm to everyone in your family, as it can be used on all skin types and even on children aged 36 months or older. With winter right around the corner, this is the perfect balm to keep lips looking beautiful all year round.
Protection and hydration are two of the most important things you can look for in a daily moisturizer, and this moisturizer provides both effortlessly. With daily use, your skin is safeguarded against free radicals and other environmental aggressors while also becoming softer and more plump in appearance. And this moisturizer keeps working for up to 48 hours, so you will find your skin soothed, softened and hydrated through everything your days require.
Not only is this creme perfect for daily moisturizing, it can also make a great base for makeup. Apply after any serums as a smoothing primer to help make your makeup application easy and stay looking beautiful all day long!
Like our favorite dry oil, but upgraded, just in time for all the holiday parties! This dry oil can still repair and nourish from head to toe, but it also contains shimmering mineral particles that illuminate your skin and hair with a satin-like sheen. Our favorite uses for this beautiful shimmering oil are: applied to the cheekbones, bridge of the nose and other high points of the face as a highlight, worn on the decolletage, shoulder and legs to help highlight and contour and lightly applied to the hair for instant gloss and shine. However you choose to wear this body oil, you're sure to shine from head to toe!
Now that we've shared our favorite NUXE products, have you found a new favorite, too? Whether you're looking for the ultimate lip balm or a new multi-tasking body oil to use all year round, you're sure to find a NUXE product that is perfect for your body care routine! Share your favorite NUXE products with us by tagging us on Instagram @lookfantasticus!
A beauty enthusiast by heart and a plant lover, I'm always looking for the latest and greatest in skincare and beauty, especially clean and organic! I think everyone's entitled to high quality skincare at any budget, and I'm always on the lookout for what's new in the industry be it tips, tricks, or products!