With salons being closed for the majority of this year, many of us have learned how to up our nail game from the comfort of our own homes. With a bit of time, a little (or a lot of) patience and some good quality nail polishes, you can create salon-worthy results for a fraction of the price!  
If you're in need of a bit of design inspiration to take you into the summer months, then look no further. Discover our round-up of the hottest patterns and colour trends you can try at home that are bound to give friends and family a serious case of nail envy.  
70s wave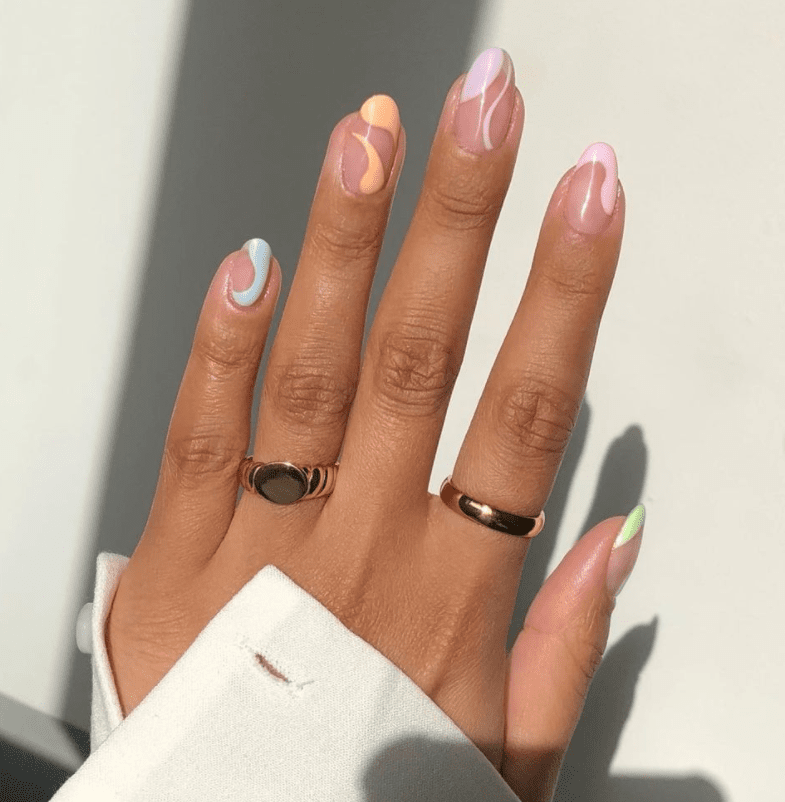 @iramshelton
The 70s style is coming back in a serious way this season. Fueled by the aesthetics of dreamy Pinterest boards, the wavy nail trend has taken the beauty industry by storm, with thousands of different variations of the design going viral online.  
The great thing about this look, is that you can recreate the waves however you like – so it can be as complicated or as simple as you like! Start off with a base coat, then use a thinner design brush to apply color in dainty lines along the nail at different angles, we recommend using Essie's range of pastel toned polishes for the perfect summer look! 
Ombre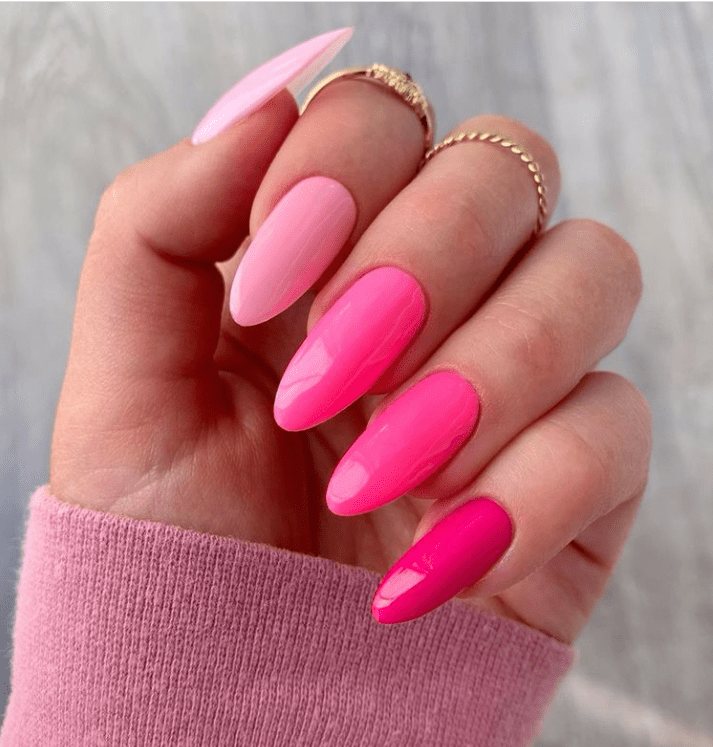 @charsgelnails_
Ombre nails are the perfect option for people who love one colour, but want to make their mani look a little bit more interesting. Experimenting with different shades of the same colour creates a beautifully subtle rainbow effect that's ideal for the summer months. 
To recreate this look, simply take 5 shades of pink subtly increasing in darkness and paint one shade on each nail, starting with the lightest at the thumb to the darkest on your little finger. We recommend using OPI polishes for their vast shade range, and chip resistant formula to help your mani last longer! 
@nailsbymh
The great thing about a bold red manicure is that it will never go out of style. This classic look is ideal for date night or your big girls' night out on June 21st! To recreate this simple, yet eye-catching and elegant style, it's important to choose a good quality red. Start with the Essie Gel Couture Nail Polish in the shade 'Rock the Runway' (no base coat required) and paint evenly along all your nails, going from cuticle to tips. Secure your manicure with the Gel Couture Clear Nail Polish Top Coat and enjoy chip-free nails for longer! 
essie Gel Nail Polish Gel Couture Tweeds Collection 523 Not what it seams and Top Coat Bundle
@gelsbybry
This fresh twist on a classic French manicure is the ideal look to take you through summer. Pastel colours are super hot right now and are a really cute alternative to the typical white tips. This look is quick and easy to recreate from the comfort of your own home. Begin by filing your nails into a square shape before applying a pinky-nude base coat. Once dry, take a smaller detail brush and carefully sweep a line of colour along the edges of your nails. We recommend the NCLA Beauty VeganNail Polish in the shade Capri Sunset for the perfect lilac tone.  
Funky florals
@thehotblend
Nothing screams summer like cute a cute floral manicure. The great thing about this design is that you can mix and match, putting a flower on alternate fingers, having one statement nail, or drawing half flower designs instead. There are so many ways to recreate the trend, and you can make it as intricate or as simple as you like. After applying your nude base coat, place a dot of pastel yellow where you would like the middle of the flower to be, and then use a smaller detail brush to apply the white petals, working from the centre dot outwards. We're currently obsessing over Sally Hansen's Peony Origins shade! 
Discover our full range of nail care at LOOKFANTASTIC.