What is double cleansing? It's exactly as it sounds: a double cleansing method that involves using two different types of cleansers. First, an oil-based cleanser removes oil-based impurities like sebum, sunscreen, makeup, and environmental pollution. Second, a water-based cleanser sweeps away grime and sweat.
Why You Should Be Double Cleansing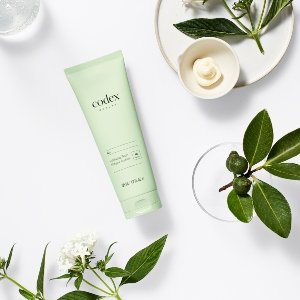 The goal of
double cleansing
is to deliver a more thorough cleanse that allows each subsequent skincare product to penetrate and do its job more effectively. Benefits of double cleansing may also include
brighter skin and less frequent breakouts.
Not everyone is suited for double cleansing, but those who do may be able to benefit tremendously. If you have oily or acne-prone skin, or often wear heavy makeup, double cleansing may be right for you.
Double cleansing can be done in the morning, at night, or both. For the best results, try to pick products similar in pH level to the skin's natural state. Also, try avoiding sulfates or ingredients like alcohol or fragrance that could potentially cause irritation.
When cleansing, gently massage the product in, rinse with lukewarm water, and pat your face dry with a soft washcloth. It's that simple, and there are no downsides to double-cleansing.
Check out our recommendations for the best double cleansing product sets below.
Top 5 Best Duos to Start Double Cleansing
1. DHC Exfoliating Double Cleanse Duo 2. Erno Laszlo Detoxifying Cleansing Set 3. Codex Beauty Double Cleanse Duo 4. Omorovicza Hydrating Set 5. TONYMOLY Glow For It - Peaches and Roses Set
Take the extra step and cleanse twice with the DHC Exfoliating Double Cleanse Duo. This pH-balanced set combines an Oil Cleanser with a Powder Face Wash, both infused with antioxidant-rich olive oil. Start out by deep cleaning and nourishing with the vitamin-rich Oil Cleanser. Next, lather up with the Powder Face Wash, which exfoliates with protease enzymes, softens skin with honey and sodium hyaluronate and soothes with lavender. It's easy to use, refreshing, and perfect for your daily skincare routine.
For a transformative effect on your skin, indulge in a deep cleanse with the Erno Laszlo Detoxifying Cleansing Set. First up, the Detoxifying Cleansing Oil is fortified with charcoal to draw out impurities, as well as detoxifying algae extract to stimulate cell production and renewal. Follow it with the Sea Mud Cleansing Bar, which harnesses mineral-rich Dead Sea mud to exfoliate, moisturize, and detoxify. Plus, the bar also contains hydrating glycerin, balancing fatty acids, and nourishing palm and palm kernel oils.
Embrace maximum freshness with the Codex Beauty Double Cleanse Duo. The Bia Wash-Off Cleansing Oil first clears and calms the skin with oat lipids and moisturizing borage. It paves the way for the Bia Exfoliating Wash, which gently exfoliates the skin with jojoba grains and refines skin tone with castor oil. Skin is left feeling pristine without any accompanying tightness or dryness.
First up to bat, the Hydra Melting Cleanser melts away dirt and makeup to clarify the complexion. A vitamin-rich infusion of mallow flower extract, sea buckthorn berry oil, and evening primrose seed oil works to gently exfoliate, revitalize, and brighten. Next, a lightly scented Cleansing Foam powered by apple pectin and white lupin extract purifies further. Skin is left youthfully firm, supple, and refreshed.
Get 5-in-1 with the Glow For It Set, a skincare bouquet that's all roses. Pamper yourself with the I'm Real Rose Sheet Mask and I'm Rose Hand Cream for softer skin. Prepare yourself for a night of sweet dreams with the Panda's Dream Rose Oil Moisture Stick and Panda's Dream Rose Hyaluronic Face Cream. Finally, round off with a Peach Punch Foam Cleanser and your skin will feel utterly adored and at peace.
Discover more matched in heaven products at LOOKFANTASTIC today.
A beauty enthusiast by heart and a plant lover, I'm always looking for the latest and greatest in skincare and beauty, especially clean and organic! I think everyone's entitled to high quality skincare at any budget, and I'm always on the lookout for what's new in the industry be it tips, tricks, or products!