Birthed in 1992, Lord & Berry began to make its name as the Italian brand that developed products to suit all skin tones.
Who are Lord & Berry?
Starting strong in the behind-the-scenes of Milan, London, and Paris fashion week, the brand begin to redefine lip and eye makeup with their wide spectrum of conditioning lip colors. When those took of the cult brand quickly expanded into a wardrobe of products for the entire complexion!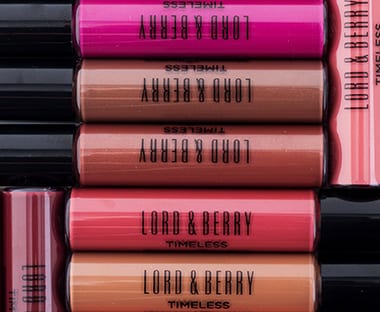 Whether going for a smudgy smoky-eye or a sleek cat-eye, Lord & Berry makes it easy to be your own makeup artist. Each product is designed to inspire confidence in the wearer, much like the perfect cut dress for a woman. Here are a few of our cult favorites to carry around for the artist in your pocket.
LORD & BERRY PAILLETTES EYE PENCIL SPARKLE - BLACK
Add some Italian glitz to your glam with the Lord & Berry Paillettes Eye Pencil Sparkle! Gentle enough to use both on the upper and lower lash lines, and the perfect long-lasting wear for those sharp sleek lines, or the smudged smokey-eye.
LORD & BERRY TIMELESS KISSPROOF LIPSTICK
Infused with neem, sesame, and Indian frankincense essential oils, this lip color hits the top with its long-wearing, transfer-resistant qualities! With a vibrant matte finish and a uniquely-shaped applicator tip, this liquid lipstick is the perfect pick for any set of luscious lips.
LORD & BERRY MASCARE TREATMENT MASCARA - BLACK
This clump-free mascara is a triple treatment that thickens, volumes, and conditions your lashes to keep them in the best shape. Long-wearing and quick-drying this mascara will quickly become a new essential to your makeup bag!
LORD & BERRY CREAM FOUNDATION
A silky finish with high coverage and UVA/UVB protection, this foundation contains pigments that work to even out the skin tone and hide imperfections. This amazing foundation also contains a blend of antioxidants, hyaluronic acid to keep the skin hydrated, conditioned and shine-free all day!
Clump-free mascara and nutrient-enriched foundation are just a few of our favorites. With all these benefits hiding in this Italian cult brand and in such a complimenting spectrum, what better way to compliment your look than Lord & Berry?
Discover more Lord & Berry, and many of our other brands, here at lookfantastic.com!
A beauty enthusiast by heart and a plant lover, I'm always looking for the latest and greatest in skincare and beauty, especially clean and organic! I think everyone's entitled to high quality skincare at any budget, and I'm always on the lookout for what's new in the industry be it tips, tricks, or products!