You'll need the right toolkit to de-stress from holiday worries during your getaways. And we have our favorite must haves and essentials for those trips, big or small! 
For that Weekend Trip
Fast track to your "happy place" with Patchology's Moodpatch eye gels to depuff and unwind, bring out your inner A-Lister with StarSkin's Cactus Pudding (who doesn't love pudding?), and hydrate with Pai's sensitive skin-friendly Rosehip BioRegenerate Oil. 
You need products that are slim enough to pack in a large bag. But they also need to be effective in a small-time frame. Look for small packaging, easy application and organic skincare to fight off free radicals!
Frequent Flyer Essentials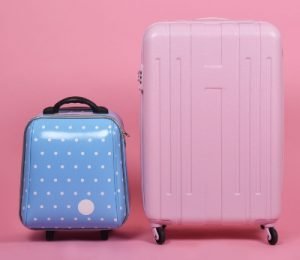 If your cosmetic bag is nothing but travel sizes, the last thing you'd want is more single use products to lug around through TSA. So instead, let's opt in multifaceted products and high impact ingredients. 
Makeup brands like Wander Beauty are the ultimate multitask brands with features including the Mile High Club's volumizing, nourishing and thickening mascara, whereas NuFACE has a triple-action face wipe set to freshen up and exfoliate after a long trip. 
And for the first-class luxury experience, a face mask is a must have. Airplane air is drying and your skin needs that extra moisture the most when going on a jet-setting ride. 
Slipping on this skin rejuvenating face mask from Illuminage will have you landing in beautiful skin. Or you can get the luxury treatment with Starskin's VIP mask line for that dewy, low-key shimmery look. 
Personally, I'm a fan of Lululun's Precious White Face Masks. Not only do they come in a set of 7 (perfect for a week away!), each mask is packed with four vitamin components – Vitamin C, E, B3 and B5 – to provide anti-inflammatory and antioxidant properties, helping alleviate signs of premature aging caused by free radical damage.
You may want to hide these though, as the Precious White Series is actually for mature skin, so it's powerful and something your mother or aunt may want to seek out! 
Have a safe, cozy, and beautiful holiday this year! 
A beauty enthusiast by heart and a plant lover, I'm always looking for the latest and greatest in skincare and beauty, especially clean and organic! I think everyone's entitled to high quality skincare at any budget, and I'm always on the lookout for what's new in the industry be it tips, tricks, or products!