If you've found yourself dropping eyelashes at a faster rate than normal, and asking why your eyelashes might be falling out, don't fret! Eyelashes fall out for a variety of reasons, and there are plenty of solutions to help correct the problem. Before jumping to any assumptions, see if these FAQs shed any light on your situation.
How much eyelash fall-out is normal?
A small amount of lash loss is perfectly normal. Most people will lose one to five eyelashes each day. This is simply the consequence of the natural cycle of eyelash growth and replacement, which occurs every six to ten weeks. However, more rapid lash loss can be cause for concern. This condition, known as madarosis, can indicate a dermatological disorder or underlying health problem.
Why are my eyelashes falling out?
Eyelashes fall out for reasons that range from easily fixable to serious. One common culprit is irritation from cosmetics. Improper use of products like leaving on eye makeup for too long, or irritating products like eyelash curlers and extensions, could be the cause of your problem. Eyelash fall-out can also be the result of conditions like blepharitis, trichotillomania, or, more rarely, skin cancer.
When should I see a doctor?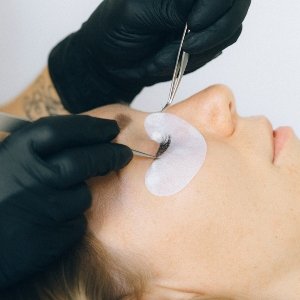 See a doctor if the lash loss is occurring on both eyes and if you experience pressure around your eyes, vision loss, or skin changes.
Symptoms like additional hair loss on your eyebrows and scalp can also point to a more serious issue at work.
Otherwise, you'll be good with taking preventive actions like changing up the products you use and fixing flaws in your beauty routine.
You can also check out eyelash treatments like eyelash tonics and supplements.
Read on to find out what products we recommend for dealing with eyelashes that are falling out.
4 Expert Solutions to Eyelashes Falling Out
Fortify your eyelashes in the long run with DHC Eyelash Tonic. This elegant gel treatment prevents further breakage with a supply of essential nourishment. A botanical blend of aloe, ginseng, and willow bark extract enrich and condition the lashes. Power ingredient Swertia Japonica stimulates lash growth, while olive leaf extract protects against environmental aggressors and comfrey leaf extract soothes. Eyelashes that were sparse and weak are left looking gorgeously strong, full, and lush. Use this eyelash tonic alone as a conditioner or as a primer before applying mascara. It's suitable for daily use.
Sweep the Peter Thomas Roth Lashes to Die For Turbo Nighttime Eyelash Treatment along your lash line for enhanced length, density, and thickness. A potent 11% peptide complex and biotin work together to get lashes looking beautifully full and healthy. This product is made for night time use and can also be used on eyebrows. Dermatologist- and ophthalmologist-tested, it's good to use on sensitive eyes and safe for contact lens wearers.
Treat your lashes and your taste buds to a transformative experience with the HUM Nutrition Hair Sweet Hair Strong, Healthy Hair Supplements. These vegan gummies are a novel way to improve your hair health. A powerful blend of Zinc, PABA, Fo-ti, vitamin B12 and Folic Acid works to promote hair growth and keep hair follicles in optimal health. Hair pigment production is also stimulated to reduce graying. Fun and nutritious, these heart-shaped hair supplements are easy to love.
The volumizing mascara has a clean, vegan formula free of parabens, sulfates, talc, and mineral oil that's infused with argan and marula oils, leaving lashes feeling conditioned. This long-lasting vegan mascara creates 10x the volume of bare lashes with no smudging or clumping. The brush applicator separates and defines for longer, fuller lashes.
For more products that help prevent eyelash fall-out, visit LOOKFANTASTIC today and shop our wide selection of products available in the US.
A beauty enthusiast by heart and a plant lover, I'm always looking for the latest and greatest in skincare and beauty, especially clean and organic! I think everyone's entitled to high quality skincare at any budget, and I'm always on the lookout for what's new in the industry be it tips, tricks, or products!