If you've found yourself dropping eyelashes at a faster rate than normal, and asking why your eyelashes might be falling out, don't fret! Eyelashes fall out for a variety of reasons, and there are plenty of solutions to help correct the problem. Before jumping to any assumptions, see if these FAQs shed any light on your situation.
How much eyelash fall-out is normal?
A small amount of lash loss is perfectly normal. Most people will lose one to five eyelashes each day. This is simply the consequence of the natural cycle of eyelash growth and replacement, which occurs every six to ten weeks. However, more rapid lash loss can be cause for concern. This condition, known as madarosis, can indicate a dermatological disorder or underlying health problem.
Why are my eyelashes falling out?
Eyelashes fall out for reasons that range from easily fixable to serious. One common culprit is irritation from cosmetics. Improper use of products like leaving on eye makeup for too long, or irritating products like eyelash curlers and extensions, could be the cause of your problem. Eyelash fall-out can also be the result of conditions like blepharitis, trichotillomania, or, more rarely, skin cancer.
When should I see a doctor?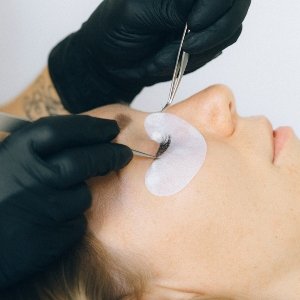 See a doctor if the lash loss is occurring on both eyes and if you experience pressure around your eyes, vision loss, or skin changes.
Symptoms like additional hair loss on your eyebrows and scalp can also point to a more serious issue at work.
Otherwise, you'll be good with taking preventive actions like changing up the products you use and fixing flaws in your beauty routine.
You can also check out eyelash treatments like eyelash tonics and supplements.
Read on to find out what products we recommend for dealing with eyelashes that are falling out.
4 Expert Solutions to Eyelashes Falling Out