Travalo perfume atomisers are a range of perfect travel accessories to help keep you smelling great; totally free of glass, they are stylish, leak proof and aircraft approved for carry-on baggage. Every Travalo has a 5ml reservoir that refills in seconds, directly from most standard perfume bottles, giving you approximately 65 sprays of your favourite perfume. The 'pump to fill' refill system transfers the fragrance without any spills or damaging exposure to air that could possibly degrade the scent.

You can also now easily alternate your fragrances using Travalo's U-change system for the Classic HD and Milano ranges. This allows you to mix and match the removable inner bottle (or engine) with any Travalo case, so there is no longer a need to empty and clean the bottle before changing your fragrance.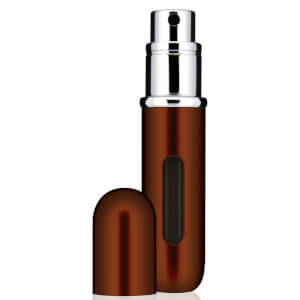 Travalo Classic HD Atomiser Spray Bottle - Brown (5ml)
15% off
Enjoy 15% off your purchase with code PREVIEW. Enter discount code at the cart. Offer valid for a limited time only.
SHOP NOW