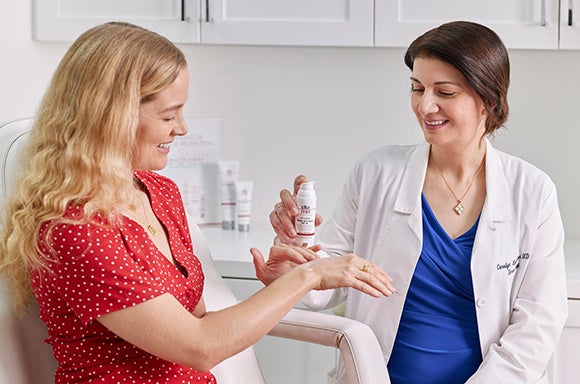 ABOUT THE BRAND
hi! we're EltaMD
and we're obsessed with sun and skin care. We know it, the scientists who test our products know it, Dermatologists know it, even our moms know it.
And what has that gotten us? It's made us the #1 Dermatologist-recommended professional sunscreen brand, for starters. In fact, more Dermatologists use EltaMD personally than any other professional sun care brand.
And it's led to a line of products that feel so good on skin, you'll forget they're actually doing work—which of course, they are. Backed by our medical heritage, we've spent the last 30 years working with some of the best Dermatologists in the country to develop safe and effective products for every skin type's every need. Products proven to protect, heal, and renew.
Like we said, obsessed.
SHOP NOW
EltaMD
Meet EltaMD, a best-selling dermatologist-recommended professional sunscreen brand, renowned for its supreme medical heritage and science-backed formulas. Suitable for all skin types and tones, EltaMD works alongside a team of scientists and dermatologists to offer expertly formulated skin and sun care that is safe, effective, and clean to the skin.The EltaMD skincare collection includes an array of high-quality compositions, from self-foaming facial cleansers to serums and moisturizers that help to replenish the skin with hydration. The innovative formulas cleanse, tone and condition the skin to deliver radiant-looking resultsThe EltaMD mineral-rich sunscreen range is powered by zinc oxide, helping to shield and protect the skin from UVA and UVB rays. Designed for everyday use, the sun cream features an ultra-blendable, lightweight texture that effortlessly melts into the skin to leave it feeling silky-soft and nourished. Explore all EltaMD on LOOKFANTASTIC.
Is EltaMD a physical or chemical sunscreen?
EltaMD is a physical sunscreen.