Sonicleanse uses micro-pulsating high frequency sonic cleansing for a deeper, more effective clean. The head pulses at an amazing 10,000 times a minute to gently loosen dirt and oil to cleanse your pores, while being gentle enough to use as part of your daily beauty routine. It's a revolution in facial cleansing in just 60 seconds.
Why Sonicleanse?
Rio Sonicleanse takes the effectiveness of daily skincare routines to the next level with advanced micro-pulsating technology. Sonicleanse goes beyond merely rotating; it pulsates at an incredibly high frequency for a superior clean that manual cleansing is simply not able to achieve.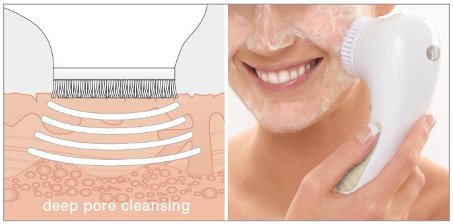 Using micro-pulsating, high frequency technology, the cleansing brush head, with over 44,000 micro-tine soft bristles, oscillating at an incredible 10,000 oscillations 10,000 time per minute to gently loosen dirt and oil for a deeper, far more effective clean.
This deep clean targets the appearance of pores, oily areas, dry skin patches and blemishes.
Sonicleanse can be used daily to help remove the epidermal layer of dry and flaky skin cells and to help remove dirt and grime from deep within the pores, leaving skin feeling and looking refreshed, smoother and revitalised.
Sonicleanse is a facial cleansing device that has benefits for all skin types – including sensitive, dry, combination and oily skin.
Features:
Safe for cleansing all skin types
Adjustable power levels: Low: for gentle exfoliation and High: for deep penetrating sonic cleansing.
Rechargeable, cordless design for better control and a 20 second interval timer alert to encourage a more complete cleansing
Charging Cradle
Water resistant - for use in the shower or bath
2 year guarantee
How to use:
Sonicleanse is cordless and is simply charged by placing the unit into the charging cradle. The brush heads are easily attached by simply clicking into place.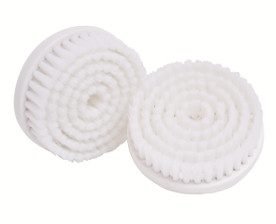 The face should be dampened with warm water and a preferred cleansing product applied to either the soft brush head or directly onto the skin. The choice of cleanser is purely down to personal preference.
Choosing a cleansing programme that's right for you
Sonicleanse offers two skin cleansing programmes – a programme that presents a lower frequency of sonic pulses for a gentle cleanse, and a programme with a high frequency action for a deep-penetrating cleanse.
It is recommended to begin with the lower frequency programme before progressing to the higher frequency programme to allow the skin to adjust to the new sonic cleansing regime.
The lower frequency programme is selected by pressing the main programme button twice. The light will illuminate green when the programme is selected.
The higher frequency programme is selected by pressing the main programme button once. The light will illuminate red when the programme is selected.
Simple, effective, deep-pore cleansing – forehead, nose, cheeks and chin
For deep-pore cleansing, the unit is simply held gently against the surface of the skin and moved in small circular motions across each treatment area of the face.
Sonicleanse encompasses an in built timer which indicates with a 'beep' when it has been used continuously for 20 seconds. At each 'beep' it is suggested to move onto the next area.
It is recommended to start with the forehead, and then move onto the nose, chin and finally the cheeks. Sonicleanse will automatically switch off after 60 seconds.
After treatment, the skin can be rinsed clean using warm water and followed with skin serums or moisturisers.
Contents
Rio Sonicleanse unit
Charging cradle with power adapter
Soft brush attachments
Full instructions and information guide