Rio Skin Camouflage Concealer is a complete corrective cosmetic kit for effective tattoo coverage as well as skin imperfections such as scars and birthmarks, vitiligo and rosacea. The colourperfect™ concealers blend easily to closely match your own skin tone for a smooth, opaque and near invisible finish.
Skin Camouflage makeup can be applied to achieve truly amazing results when concealing unwanted skin flaws. It is fragrance free, waterproof, smudge resistant and has a unique opaque coverage which conceals without caking and can even be used effectively over stubble growth.

Features:
Effectively conceals tattoos
Maximum coverage make-up for scars, birthmarks, vitiligo and rosacea
Fragrance-free & waterproof
Simple 5-step application
Professional DVD included
Includes three blendable concealers with a base colour.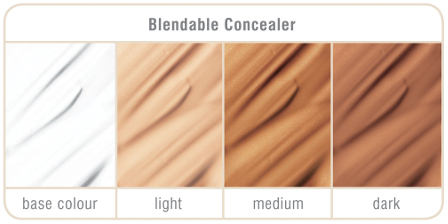 The included step-by-step DVD features Elizabeth Allen, BASC Certified Make-Up Artist, from the British Association of Skin Camouflage, to guide you through how to achieve the best results for your blemish and skin tone.
Precautions
With the exception of tattoos, it is always best to seek your doctor's permission to proceed with Skin Camouflage, as you might, without realising it, be concealing a condition that requires medical attention.
Should you notice any changes in your skin, and in particular any change to the colour or size of a mole, you must contact your doctor for a clinical diagnosis and you must stop using the Skin Camouflage until your medical practitioner has given you permission to continue.
Contents:
Dark base foundation
Light base foundation
Medium base foundation
White base foundation
Fixing powder
Face puff
Powder brush
Concealer
Blemish brush
Blotting sponge
Mixing pot
Full instructions and step-by-step DVD