Many people with oily skin often struggle with foundation melting off and excessive oil production, which is why finding the right primers for oily skin is a must.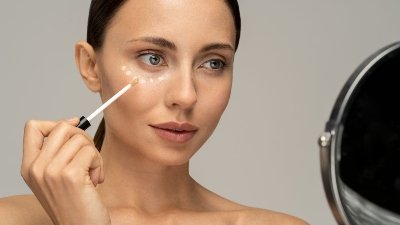 A
primer
creates the perfect base on oily skin to prevent your foundation from slipping.
It not only preps your skin for makeup application but also ensures your makeup lasts throughout the day. Forget about greasy skin and ugly streaks of makeup.
The right primer for oily skin creates a flawless and smooth complexion.
Remember, there's a difference between glowing skin and greasy skin. The latter means carrying around blotting papers to keep your foundation from melting off. Makeup bases like primers provide a shine-free finish for a glowy makeup look.
Ready to ace your makeup base? Let's take a look at some of our highly-rated primers for oily skin!
Which Are The Best For My Skin Concern?
If you're looking for the perfect, streak-free base, here's a list of 10 of the best bases for oily skin in 2020 so that you can find the ideal product for your skin.
10 Best Primers For Oily Skin
1.

Illamasqua Matte Veil Primer 30ml

Do you want a lightweight primer that blends on effortlessly? Look no further! The Matte Veil Primer by Illamasqua absorbs excess oils and mattifies your skin for a flawless and visibly smooth complexion. This cream-gel primer works to prevent dryness and provides oil control throughout the day. If you want your makeup to last all day, this is the primer for you.

2.

DHC Velvet Skin Coat Primer (15g)

If you want to minimize the appearance of imperfections, you might want to try the Velvet Skin Coat Primer by DHC. This transparent makeup primer melts effortlessly onto your face for a smooth and flawless complex.

Boasting a matte-finish, this primer works to reduce the appearance of enlarged pores and fine lines. If you want a natural-looking finish, wear this primer alone.

3.

Dermalogica HydraBlur Primer 22ml

The HydraBlur Primer by Dermalogica is a lightweight, long-wearing primer designed to smoothen the appearance of pores, fine lines, and wrinkles. This mattifying primer delivers a hint of natural-looking color and prevents dryness for a flawless complexion.

With an innovative formula, this primer creates the perfect base for makeup application.

4.

3INA Makeup The Matte & Smooth Primer Transparent 30 ml

If you want an airbrushed and mattified finish, you'll fall in love with the Matte & Smooth Primer By 3INA Makeup. This multitasking primer is not only paraben-free but also vegan! With light-reflective particles, this primer adds radiance to your skin for an even and smooth complexion. If you want your makeup to last throughout the day, this blurring primer is for you.

5.

The Ordinary High-Spreadability Fluid Primer 30ml

If your makeup tends to appear cakey or patchy after each application, the High-Spreadability Fluid Primer by The Ordinary is ideal for you. This lightweight primer spreads easily and evenly on your skin for a silky and smooth finish.

With an innovative formula for oily skin, this primer works to prevent cakeyness and hydrates your skin so that makeup is comfortable to wear throughout the day.

6.

INIKA Certified Organic Matte Perfection Primer 30ml

If you have overly oily skin, you might struggle with the excessive production of oil. This leaves your skin greasy and full of unsightly streaks. Luckily for you, the Organic Matte Perfect Primer by INIKA works to absorb oil for a streak-free and smooth complexion.

This lightweight primer also keeps your skin hydrated and minimizes the appearance of pores.

7.

Elizabeth Arden Visible Difference Good Morning Retexurizing Primer (15ml)

The secret to flawless makeup coverage achieved by every makeup artist is the Visible Difference Good Morning Retexturizing Primer by Elizabeth Arden. This avocado-packed product brightens your skin and improves skin tone and clarity.

Over time, this primer could even out skin tone with daily application. If you want a primer that maintains healthy-looking skin and blurs the appearance of fine lines, pores, and wrinkles, this is the primer for you.

8.

Revlon Exclusive PhotoReady PRIME PLUS Mattifying and Pore Reducing Primer 30ml

If you have oily skin, you know how shiny it can look after makeup application. With the PRIME PLUS Mattifying primer by Revlon, you can blur your skin for a balanced matte-coverage look. This unifying primer works to smooth the appearance of pores, wrinkles, and fine lines for youthful-looking skin.

Boasting a lightweight, breathable formula, this antioxidant-rich primer provides a silky base for flawless foundation wear.

9.

Daniel Sandler Anti-Redness Foundation Primer

Do you want to disguise high-color - blotchy neck and chest or red, angry-looking flushed cheeks? If so, you might want to try the Anti-Redness Foundation Primer by Daniel Sandler. This green-toned primer is designed to conceal redness for natural, dewy, and glowy skin.

With a lightweight formula, this primer is incredibly sheer so that it won't weigh down on your skin. If you have redness from acne or menopause, this liquid primer is for you.

10.

Rodial Instant Glow Primer

Most people with oily skin often forget to moisturize their skin, but oily skin doesn't equate to well-hydrated skin. So, it's crucial to add hydrating products like this Instant Glow Primer by radial to your skincare routine.

This hydrating primer moisturizes your skin for a plump look and warm apricot glow. With a sheer formula, this primer creates a natural, luminous base for even makeup application.
A beauty enthusiast by heart and a plant lover, I'm always looking for the latest and greatest in skincare and beauty, especially clean and organic! I think everyone's entitled to high quality skincare at any budget, and I'm always on the lookout for what's new in the industry be it tips, tricks, or products!