Color-treated hair needs extra TLC to keep colors vibrant and hair healthy, which is why our vibrant hair mavericks need shampoos for colored hair.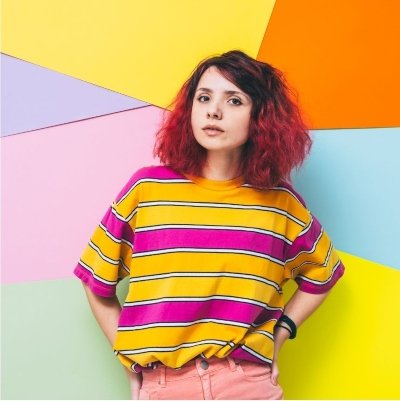 Nothing is worse than spending time and money on hair color only to see it disappear down the drain. Luckily for you, there are many color-safe shampoos you can use on black, blonde, brunette, or red hair.
Generally, shampoos clean away dirt and oil build-up for healthy and vibrant locks, but color-safe shampoos have a color-protecting formula to minimize fading.
Shampoos for colored hair are more gentle on your hair, and they contain special conditioning agents to prevent dye from escaping.
Ready to preserve your hair color? Let's look at some of our hero color-treated hair care shampoos!
Which Are The Best Shampoos For Colored Hair?
If you want to maintain your hair color and keep it in good condition, here's a list of LOOKFANTASTIC's 10 of the best shampoos for colored hair.
10 Best Shampoos For Colored Hair
1.

René Furterer OKARA COLOR Color Protection Shampoo 6.7 fl. oz

If you have hair that's damaged or weakened from dying, you might want to try the OKARA COLOR Color Protection Shampoo by Rene Furterer. Boasting a radiant-renewing formula, this product restores softness and shine from roots to tips. This color-safe, lightweight shampoo transforms into a foamy lather, gently cleansing hair while preserving color vibrancy.

2.

Olaplex No.4 Bond Maintenance Shampoo 8.5 oz

The Olaplex No.4 Bond Maintenance Shampoo is a hydrating and strengthening shampoo that works to repair and protect hair from environmental aggressors. By re-linking broken bonds, this color-safe shampoo reduces breakage and works on all hair types. If you struggle with frizz, split ends, and damaged hair, this is the shampoo for you.

3.

KLORANE Shampoo with Quinine and B Vitamins 13.5oz

If you're looking for superior bounce and shine, look no further! The Quinine and B Vitamins Shampoo by KLORANE is a must-have color-safe shampoo for revitalizing weak, limp, and lifeless hair. This lightweight shampoo gently cleans away dirt, impurities, and oil while refreshing hair for visibly thicker and fuller locks.

Enriched with plant-based Quinine, this product is suitable for regular use as it doesn't disrupt your hair or scalp's natural balance.

4.

Alterna Caviar Anti-Aging Restructuring Bond Repair Shampoo

Is your hair damaged from chemical processes or physical stressors? If so, this color-safe shampoo by Alterna Caviar is ideal for you. This rich, restorative shampoo gently lifts away dirt and oil while restoring moisture, elasticity, and shine.

Boasting an innovative formula, this shampoo works to rebuild and protect strands, preventing breakage. It's the perfect formulation for those with color-damaged and vulnerable hair.

5.

VIRTUE Purifying Shampoo 120ml

Say goodbye to dull, dry hair with the VIRTUE Purifying Shampoo. This color-safe, clarifying shampoo deeply cleanses hair back to a healthier state. With a detoxifying and rejuvenating formula, this shampoo removes product residue, excess oil, and smoke.

If you want to feel fresh and renewed after every wash, you'll love this gluten-free product. And the good news is it's suitable for all hair types!

6.

Philip Kingsley Pure Blonde/Silver Brightening Daily Shampoo 1000ml (Worth $128)

If you're looking for a product that combats brassiness and yellowness, you may want to try the Pure Silver Shampoo by Philip Kingsley. This lavender-scented shampoo is specially formulated for bleached blond and gray hair to add shine to dull locks and reduce the appearance of discoloration.

If you want to nourish and moisturize your hair with every wash, apply this shampoo to wet hair and rinse properly.

7.

Phyto Phytocolor Color-Protecting Shampoo 8.45 fl. oz

Achieve color vibrancy and hair shine with the Phytocolor Color-Protecting Shampoo by Phyto. Boasting a gel-based texture, this color-safe shampoo transforms into a delicate and soft lather that protects hair color while gently cleansing away dirt and impurities.

With a subtle scent, not to mention its iconic duo of active ingredients, this shampoo is a must-have to protect color from oxidizing or fading and for soft and vibrant hair.

8.

Kerstin Florian Reviving Shampoo 400ml

Most of us moisturize our skin, but have you ever thought of moisturizing your scalp and hair? Dry, dull hair is more susceptible to damage from dying and chemical processes. So, it's vital to use moisturizing shampoos like the Reviving Shampoo from Kerstin Florian often.

This innovative shampoo delivers moisture and revives dull and lackluster locks, revealing shiny and ultra-soft hair. If you're looking to strengthen your locks and decrease the chances of hair damage, this shampoo is for you.

9.

Alterna My Hair. My Canvas. Another Day Dry Shampoo 5.0oz

The My Hair. My Canvas. Another Day Dry Shampoo by Alterna is not only color-safe but also vegan! This lightweight dry shampoo leaves no white residue and absorbs excess oils, irritants, and toxins, revealing natural shine.

If you want to achieve salon-worthy results at home, you'll fall in love with this shampoo that extends time in between washes.

10.

OUTRÉ Shampoo + CBD/Daily Moisture & Repair

Do you want a rich, daily shampoo you can use with your family? If so, you might want to try the OUTRE Shampoo + CBD/Daily Moisture & Repair. This hydrating shampoo helps to nourish, repair, and strengthen locks and provides relief from damaged, dry, and irritated scalps. This shampoo also cleanses your hair and scalp without stripping it off its natural oils and moisture.
A beauty enthusiast by heart and a plant lover, I'm always looking for the latest and greatest in skincare and beauty, especially clean and organic! I think everyone's entitled to high quality skincare at any budget, and I'm always on the lookout for what's new in the industry be it tips, tricks, or products!