For most people, shampoo is little more than a bathroom necessity to clean their hair every few days, but shampoo is, in fact, an often wildly underestimated product. The basis for a great hairdo starts with clean, soft, and shiny hair, and the best product to help deliver these is a clarifying shampoo.
What is a Clarifying Shampoo?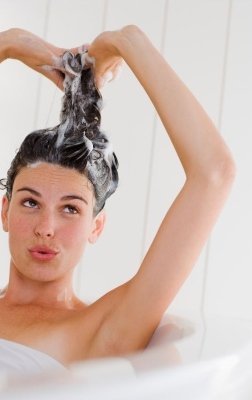 Clarifying shampoo doesn't necessarily sound like a beauty must-have, but it should be in every shower and bathroom across the country. We all know our
hair
needs to be cleaned to look healthy and lustrous, but clarifying shampoo goes a few steps further than your average shampoo.
Every day our hair is subjected to particles of pollution, minerals in hard water, and chemical build-up from products such as conditioners and hairsprays, and our hair strands will grab and hold onto these. Over time, hair can start to look oily, limp, and unhealthy if we continue using only normal shampoo and conditioner to wash our hair. In fact, these products only add to the build-up!
That's where clarifying shampoo comes in. Designed to give both hair and scalp a deep cleaning experience, it helps to remove the build-up in hair using ingredients that purify, helping to remove excess oils, sebum, skin, and pollutants, leaving only soft and silky hair.
How often should I use a clarifying shampoo?
Clarifying shampoo is not like ordinary shampoo; it is designed to be used less often as a cleaning boost rather than everyday washing.
Those with thinner hair types may want to use clarifying shampoo more than their thicker hair counterparts as build-up on thinner hair is much more noticeable. Once a week can help to deep clean on thinner hair and once a month on thicker hair.
Environmental factors can also have a large impact; those in cities may find hard water or pollutants can leave hair feeling lank, while swimmers may experience a build-up of chlorine or excess saltwater for open-water swimmers. In these cases, users may opt to use clarifying shampoo much more often to remove harsher build-ups.
Clarifying Shampoos vs. Dry Shampoos
There are quite big differences between dry shampoo and clarifying shampoo; the main being the consistency of the products. Clarifying shampoo is a wet liquid that deep cleans the scalp and hair strands, removing all build-up; dry shampoo, on the other hand, is a spray-on powder that helps to absorb excess oil in the hair to help freshen the scalp but which can also lead to build-up and must be washed out later.
The Best Clarifying Shampoos
A beauty enthusiast by heart and a plant lover, I'm always looking for the latest and greatest in skincare and beauty, especially clean and organic! I think everyone's entitled to high quality skincare at any budget, and I'm always on the lookout for what's new in the industry be it tips, tricks, or products!